Move to help fishery and aquaculture vessels cut carbon footprint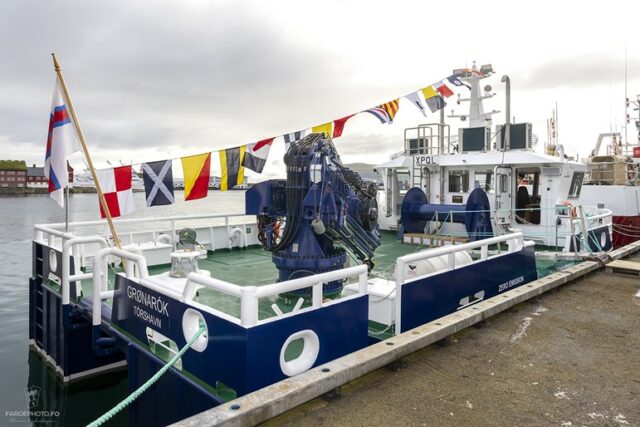 UK industry body Seafish has created a "Vessels of the Future Forum" to help aquaculture vessels and fishing boats transition to net zero.
The newly formed forum brings together representatives from the fishing and the fish farming industry, boat builders and surveyors, ports and harbours, engine manufacturers, research community and governments.
It is being chaired by Mike Cohen, Deputy Chief Executive of the National Federation of Fishermen's Organisations.
At a recent inaugural meeting of the forum members discussed and settled on working principles.
Details of agreed work themes have been published by Seafish, the public body that supports the seafood industry in the UK. They will include, but are not limited to, supporting the following outline priorities:
Development of cross-sector pre-competitive and collaborative research, data gathering and knowledge sharing that drives the deployment (e.g. demonstrator schemes) of innovative technologies;
Development of an aligned evidence-based policy and enabling regulatory framework;
Building carbon literacy awareness across the seafood sector, including understanding on policy drivers and clean technology readiness; and
Development of shore-side ports and harbours infrastructure in parallel with vessel fuel transition.
Seafish says it will provide the secretariat for the Forum and support the delivery of its agreed work plan going forward.
Dr Stuart McLanaghan, Head of Responsible Sourcing at Seafish said: "The seafood sector needs practical resources to support its response to climate change. Engagement with industry in 2022 confirmed a need for pre-competitive collaboration across the supply chain and wider maritime sector, to support decarbonisation across our fishing and aquaculture vessels. We have now convened the Vessels of the Future Forum with a focus on supporting the fleet's transition to net zero."
Mike Cohen, Chair of the Vessels of the Future Forum added: "We cannot escape the reality of climate change: it is the biggest challenge of our age. Every industry needs to respond to it and fishing is no exception.
"Thankfully we can already be proud of our contribution. Fishing and aquaculture put healthy food on people's plates with one of the lowest carbon footprints of any form of protein."
He added: "We can do more, though. Ours has always been an adaptable industry and this Forum seeks to harness that ingenuity, to make fishing's contribution to the aspiration of a net zero economy even greater.
"This isn't just the right thing to do, it's the commercially sensible thing to do. Lower carbon means less fuel and fuel prices are already close to crippling levels for many fishing businesses."
Seafood Fund bidding opens
Meanwhile, the UK fishing industry is to benefit from an initial £2m investment to trial new, greener engines and help create a safer, more sustainable fishing fleet as the latest round of the £100m UK Seafood Fund opens today.
OIder vessel engines are some of the industry's biggest polluters and, according to a report by MarFishEco, over half of the boats across the UK fishing fleet are now more than 30 years old, meaning that the annual energy use of the fleet is equivalent to that of 110,000 homes.
From today, vessels in the small-scale coastal fleet can bid for up to £40,000 to trial hybrid and electric engines, and up to £20,000 to fund replacement petrol and diesel engines that are more environmentally friendly.
As well as supporting the fishing industry to deal with rising fuel costs, the trial aims to gather new data and evidence to help reduce greenhouse gas emissions, improve efficiency and reliability, and help the fishing industry to reach net zero.
The funding round will be administered by the Marine Management Organisation (MMO), and more details on how to apply can be found online at www.gov.uk/guidance/uk-seafood-fund-infrastructure-scheme
Story updated 12.25pm, 27 January