Mount Cook set to build first land-based salmon farm in NZ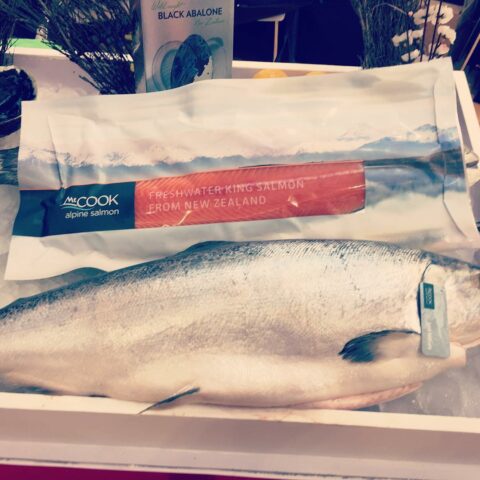 New Zealand is about to get its first land-based salmon farm.
With government support, Mount Cook Alpine Salmon Farm has unveiled plans to construct a prototype facility in Twizel, Canterbury, which will double the company's capacity to between 6,000 and 8,000 tonnes.
The new farm will be a hybrid facility which will use a part flow-through system, designed to optimise energy use through gravity fed water and renewably sourced energy.
Nutrients from the salmon operation will be collected to support an aquaponics crop, taking a circular approach and generating value from a zero-value waste stream. This will link to a wetland area that will further purify the water, the company said.
The New Zealand Ministry for Primary Industries Sustainable Food and Fibres Futures (SFF Futures) Fund has pledged NZ $6.7m (£3.38m) towards the NZ $16.7m (£8.42m) project.
Steve Penno, director of investment at the Ministry of Primary Industries, said: "Demand for healthy, sustainably produced aquaculture products continues to grow, and land-based salmon farming will enable New Zealand to boost the supply of this high-quality, high-value product."
He said the project is in line with the Government's aquaculture strategy, which outlines a sustainable growth pathway to an additional $3bn (£1.5bn) in annual revenue.
"Land-based projects are a key pillar of the aquaculture strategy, which relies on innovation across the sector.
"This project is an excellent example of smart thinking to explore what land-based farming could look like for New Zealand, based on next generation salmon farming techniques."
Mount Cook Alpine Salmon CEO David Cole said his company was delighted to be involved with the project.
He added: "There are always risks associated with innovative projects like this, and Government support helps cushion this risk and accelerate outcomes."
"Despite the difficult market conditions over the last few years, our customers love the taste of our unique freshwater King Salmon and demand continues to exceed our supply. This co-funding enables us to expand our production capacity through a new way of farming that has the potential to be a game-changer for the company and the aquaculture sector in New Zealand."