Mørenot acquires Hvalpsund Net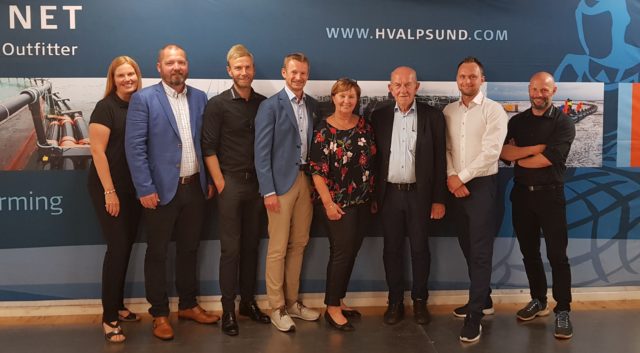 NORWEGIAN aquaculture supplier Mørenot has acquired the Danish net maker Hvalpsund Net, the company announced today.
The move comes as Mørenot, which was itself bought by northern European investment fund FSN Capital last year, continues to expand.
The acquisition of family firm Hvalpsund is the fourth time the FSN group has invested additional capital in Mørenot.
The company now has sales worth more than NOK 1.2 billion and over 700 employees.
Arne Birkeland, CEO of Mørenot, said of the latest purchase: 'Through hard work and solid dedication for a long period of time, Hvalpsund Net has been developed into an agile company with strong customer relationships, and a safe and good workplace for its employees.
'Mørenot, which provides solutions for sustainable harvesting of seafood, combined with Hvalpsund will be able to offer more competitive solutions and develop even more innovative products across all markets.
'We will continue to develop the position Hvalpsund has built on plastic cages, nets and fishing gear by investing in further product development across the product portfolio.
'At the same time, we will continue to deliver individual products separately, but at the same time also develop complete and integrated cage solutions in some markets.'
Hvalspund Net's Peter Polsen, who joined the company in 1966 and took over as CEO in 1974, and his family have been majority shareholders in Hvalpsund Net since 1974.
They will reinvest a significant share of the proceeds in Mørenot and remain an active part of the future development of the partnership.
Poulsen said: 'Hvalpsund Net and Mørenot together is a great fit and will strengthen our efforts to continuously develop the business and organisation.
'It was important for us to bring in a partner who shared our values ​​and visions and wanted to invest for the future,
'Mørenot is the leading supplier to the aquaculture and fishing industry globally and it will give us a fantastic opportunity to build on each other's strengths, knowledge and experience to deliver even better products to our customers.'
Ola Kvalheim, investment manager at FSN Capital, applauded the Poulsen family for building 'a great company' as he welcomed them as fellow shareholders and colleagues in Mørenot.