Minister praises SSF's 'green' hatchery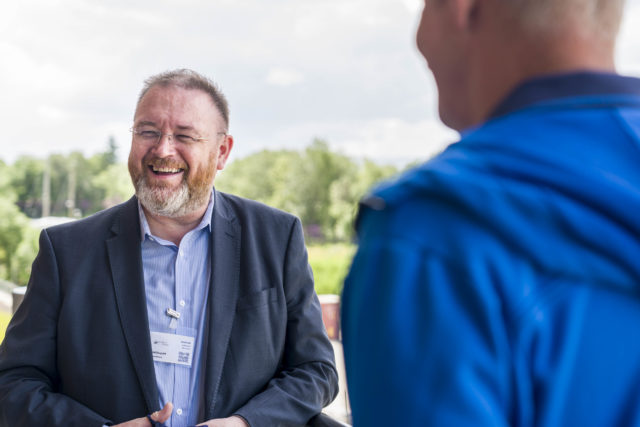 UK Government Minister for Scotland David Duguid has declared he is "impressed" with the environmental technology at Scottish Sea Farms' new hatchery at Barcaldine.
On a visit to the site on the west coast of Scotland yesterday, Duguid was shown the hatchery's 600kw biomass energy system. Owned, installed and maintained by AMP Clean Energy, the system uses locally sourced, sustainably managed wood chip to provide the 17,500 sqm building with much of its heat and hot water, saving 683 tonnes of carbon a year compared with using oil. AMP estimates that is the equivalent of six million road miles per year by car.
The hatchery's recirculating aquaculture system (RAS) cleans and recirculates up to 98% of freshwater used per day, saving more than 20 times the water used by traditional hatchery systems. The RAS uses energy-saving heat pumps and heat exchangers to regulate temperature rather than kerosene boilers and electric chillers.
The RAS also collects fish waste, which is treated and used as agricultural fertiliser.
Duguid said: "I've been so impressed at the green approach of this state-of-the-art facility. Scottish Sea Farms' water-saving and waste-recycling measures, coupled with the use of AMP Clean Energy's environmentally-sound biomass heating system, prove that it is possible to forge ahead in innovation to sustain the sector while still meeting our net zero objectives.
"The UK Government has ambitious climate commitments and it's by embracing measures such as these and accelerating decarbonisation that industry will be future-proofed to protect and create jobs."
Scottish Sea Farms' Head of Sustainability, Anne Anderson, said: "Like any food producer, we're working hard to minimise any impact from our activities on the environment, not just via our new Barcaldine Hatchery but across the business: from our marine farms to our processing and packing facilities, through to essential support services such as IT and logistics. It has been a pleasure offering Minister Duguid a glimpse into some of the many initiatives underway."