Meercat delivers first order under new ownership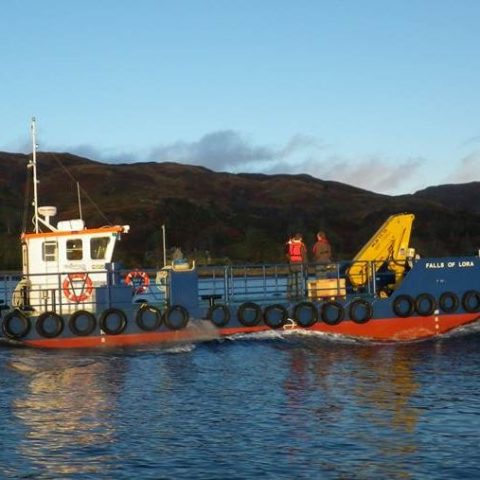 MEERCAT Workboats has delivered its first vessel under the umbrella of new owners, Burgess Marine, with the hand-over of a 14m workboat to Scottish fish farming specialists Dawnfresh Farming.
Meercat completed the steel build, named the Falls of Lora, at its facilities in Portchester, Hampshire, and the vessel is now in operation at Dawnfresh's trout farming operation on Loch Etive, where it is being used for general fish farm maintenance with a particular focus on feeding operations.
With a cargo carrying capacity of 15 tonnes, a Heila HLM 10-3s crane with remote control and twin 2-tonne capstans, the Meercat will be well suited for lifting operations and net handling.
Considerable focus has gone into creating a large, clear 'snag free' deck with ample use of flush deck fittings and limited use of deck hatching.
Gideon Pringle, Farming Director at Dawnfresh, said: 'This project has probably been one of the most successful that I have known in terms of accuracy and achieving expectations.'
New Meercat Managing Director Jason Coltman commented: 'This is the 22nd vessel built by the company and the first under the new ownership.
Again, we have delivered the project on time and on budget, underlining our growing role as a leading supplier of small workboats.'
Falls of Lora is the third Meercat built for fish farming. The Meercat hull-form, clear deck configuration, impressive payload and plethora of equipment options have proved to be ideally suited to handle the multitude of tasks that fish farm management demands.
Sean Lydon, the business support manager with Dawnfresh, added: 'Meercat's approach to this build was very professional.
They worked tirelessly with us to deliver a vessel to an agreed specification and exactly on time. This craft will be used to assist in feeding operations across all our sites on Loch Etive.'
The aim of Meercat's 15-strong workforce is to expand the company's product range to include barges, canal tugs, bigger Class approved workboats and aluminium builds for wind farm support.
Parent company Burgess is currently building three 25m aluminium wind farm support vessels for Mainprize Offshore at Portchester.