Market knowledge a 'must have' for farmers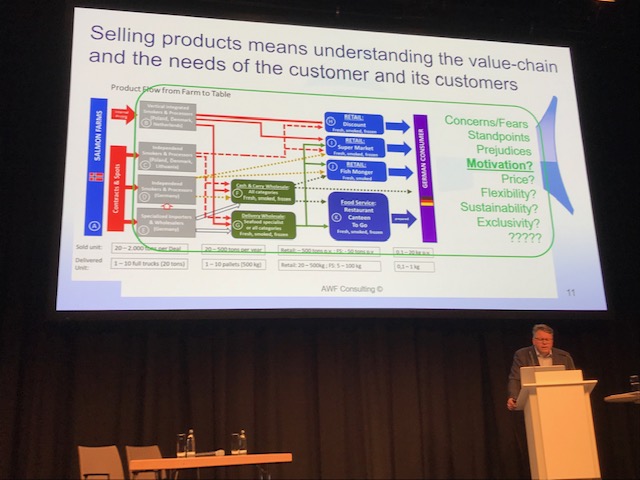 KNOWLEDGE of the market is a must have for anyone who wants to run an aquaculture business, said German fisheries consultant Alexander Wever, who delivered the plenary talk on the second day of Aquaculture Europe 19 in Berlin yesterday.
Wever, who has been in the seafood business for 25 years, spelt out the importance of seafood, which is the most traded food commodity in the world, more than beef, pigs, soy beans or coffee according to the FAO.
While seafood supply from wild fisheries has remained stable over the last 40 to 50 years, there has a been a huge rise in aquaculture production.
The expanding global population needs protein and aquaculture will have to continue growing to meet the demand.
But there are challenges, said Wever, highlighting the recent opposition to marine farming from two big fish farming nations, Canada and Denmark.
The move in both countries, to bring aquaculture on land, would see competition for the use of water.
Aquaculture also has to compete with other food producers for the use of raw feed materials, and the industry has to overcome a lot of prejudices, changing nutrition behaviour, and its own bad practices, said Wever.
High on the list of challenges is understanding the market and the consumer. He said in his experience, mainly in Europe, at least 50 per cent of failed seafood businesses were not caused by technical or biological problems, but by lack of knowledge and naivety about the market.
'You should understand, if you run an aquaculture business, the market is not asking for fish or shrimps, it is asking for products,' he said.
If farmers want to sell products, understanding the potential buyers' motivation can be half the battle.
For example, an Italian restaurant owner expects good quality and taste, of course, but the most important factor is price.
He knows what he can get from his guests – say 18 to 25 euros for sea bass – from which he has to deduct his costs (VAT, labour, rent). He won't pay more than he can recoup.
Also, he needs a stable price, because his profit must be stable. And size should be uniform – he can't give his guests different portions for the same price. And he needs minimum orders and convenient delivery times.
If your buyer is a big retailer, you must understand his customer. What is important to the retailer – on top of price, packaging, delivery – are sustainability, welfare, certifications, and the concerns and prejudices of customers.
'At the end, you have to be cheaper or you have to be better than the alternatives. Perhaps as a farmer you will not sell directly to an Italian restaurant, or to the retailer. Our customers' customer will make the difference and we have to try to influence their attitudes.'
Aquaculture Europe 19, run by the EAS (European Aquaculture Society) concludes today. A full report will appear in the next issue of Fish Farmer.