Marine Harvest order two new AKVA barges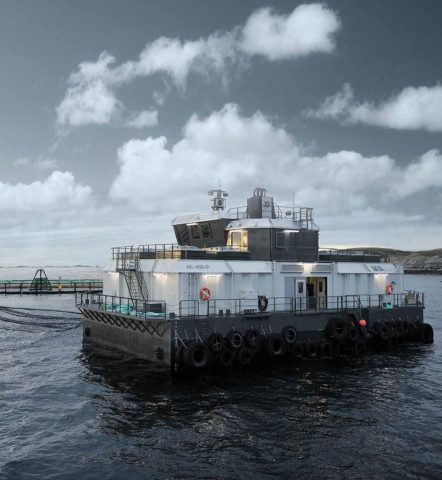 MARINE Harvest Scotland and AKVA Group Scotland have signed a deal for two new barges.
The AKVA Centre 450 tonne Panorama and AKVA Master 320 tonne Comfort are both due to be delivered this year.
AKVA steel barges are designed to withstand the rough Scottish conditions, including in some cases wave heights up to 6m
The barges can carry 450 and 320 tonnes of feed with eight and six line feed systems respectively to ensure feeding and fish performance is optimised.
The barges also provide a safe and comfortable working environment with full overview and control of all the systems.
The latest feeding and integrated feedback monitoring technology can now be monitored and controlled remotely from a shore base using the AKVA Connect software platform.
The steel barges are also easy to disinfect, recyclable and have a low carbon footprint.
Paint is guaranteed for five years on all AKVA barges and the barge was given added protection with a metallised finish. other features include automated silo hatches, internal camera monitoring, custom designed control room, wet and dry labs, cranes and ensilage handling system.
AKVA Group Scotland continues to develop its existing Scottish service team, employing around 50 people, mostly based in Inverness but also in Argyll and the islands.
It is a leading technology and service partner to the aquaculture industry worldwide, providing both sea water farming and land based operations with complete technical solutions.