Macduff Shellfish nets £6.28m profits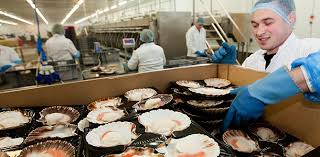 MACDUFF, the UK's largest shellfish processor made a pre-tax profit of £6.28 million last year, according to the company's latest financial results.
This is in spite of various challenges facing the fishing industry in general, not least the uncertainty around Brexit.
The Peterhead based company, bought by Canada's Clearwater Seafoods for £100 million three years ago, reported sales of £77.965 million in 2017.
This compares with sales of £93.986 million for a 15-month period ending on December 31, 2016.
With a staff of 452 and an annual wage bill of more than £11 million, Macduff is a major supplier to markets in the UK, Europe and the Far East. It specialises in scallops, langoustine, crab and whelks.
Pre-tax profits were £6.28 million, compared with £9.366 million for the previous 15-month period. Profits after tax were £5.59 million compared with £8.83 million for the previous 15-month period.
The company said in its annual report, posted at Companies House, that sales in the UK along with exports to Europe (its largest overseas market), and the Far East would continue to be its main focus.
The report says: 'The fishing industry has been subject to the same economic factors as the rest of the UK over the last few years, specifically the impact of Brexit and continuing challenges to key European markets.'
Roy Cunningham, vice president of the Canadian parent owner, later told the Aberdeen Press & Journal said that the business had a global market strategy and was making significant inroads into the Asia Pacific and North American regions.
He added that until details of any UK-EU deal was known, it was difficult to assess the extent of how Brexit would affect the business.