Lumpsucker project gets underway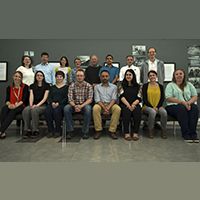 A project to tackle sea lice through the farming of lumpsuckers has now begun in earnest, with a specialist team recruited and four main lines of research identified.
The £2.12 million initiative is a collaboration between Marine Harvest Scotland, the Scottish Salmon Company, Otterferry Seafish, BioMar, Pharmaq and the Institute of Aquaculture at the University of Stirling, and is supported by £817,474 of funding from the Scottish Aquaculture Innovation Centre (SAIC).
Announced last November, the project agreement has been signed and work is getting underway, covering broodstock management, nutrition, cage deployment, and health and welfare.
Dave Cockerill, head of fish health at Marine Harvest Scotland, said: 'Currently, the industry is reliant on wild-caught lumpsucker broodstock, from which farmed juvenile lumpsuckers are grown and used for delousing farmed salmon.
'However, if we are to achieve our ambition of significantly reducing the use of medicines by upscaling our use of cleaner fish, we need access to an increased, secure and sustainable supply of farmed broodstock and juveniles.
'At Marine Harvest Scotland alone we could be looking to deploy more than two million lumpsuckers each year by 2020.'
Spanning three years, the research project aims to tackle a range of commercial bottle necks and objectives, supported by a much better understanding of lumpsucker biology and behaviour in captivity.
Professor Hervé Migaud, deputy director of the Institute of Aquaculture, said: 'While evidence from farms clearly demonstrates the effectiveness of lumpsuckers at consuming sea lice, research is required to improve the reliability of this innovative biological pest management strategy.
'The challenge for us, the project team, is to fast-track the domestication of a new marine species through the development and implementation of a suite of protocols to control breeding, nutrition, disease and deployment into salmon cages, while also ensuring good welfare.
'This is a great example of collaboration between academia and industry with experts from different research groups at the institute joining forces to study the full lifecycle and key physiological traits.'
This latest project is the fourth in a series of SAIC supported cleaner fish initiatives, the key learnings from which will be shared across the industry.
SAIC CEO Heather Jones said: 'Knowledge exchange is a huge part of what we do and we're planning to host a dedicated workshop in early 2017 where partners from the different cleaner fish projects can meet to share the insights being made.
'Longer term, the goal is produce a comprehensive how-to guide to cleaner fish that the whole industry can share in and benefit from.'

 
Picture: The project team taken on the day of the official launch. Photo credit: Denny Conway, Institute of Aquaculture.