Lower salmon prices hit Lerøy Q1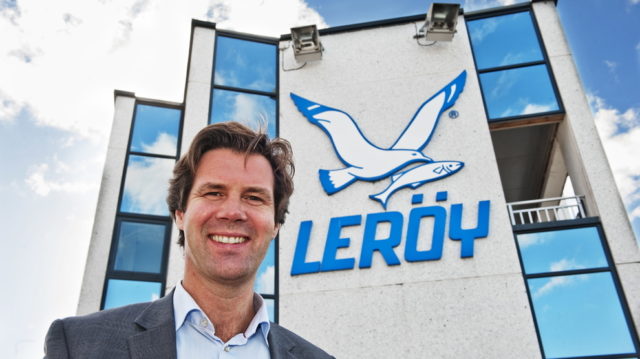 THE Lerøy Seafood Group, whose operations include salmon farming, white fish trawling and fish processing today reported a significant drop in both earnings and operating profit for the first quarter of 2018.
Revenues for the period totalled NOK 5,000 million, compared with NOK 5,459 million in Q1 2017, while the operating profit before fair value adjustment related to biological assets was NOK 960 million, compared to NOK 1,277 million a year ago.
The group, which owns 50 per cent of Scottish Sea Farms, says the decline in profits was mainly due to lower harvest volumes and lower prices for trout and salmon.
Lerøy CEO Henning Beltestad (pictured) said: 'I am satisfied with the result we have achieved in the first quarter of 2018. There is a strong demand for seafood and this has produced a positive development in prices in the first quarter of 2018.
'The process of developing Lerøy into a fully integrated company, with both white fish and red fish in our value chain, continues at full pace.
'I am proud of the group's highly skilled employees, who work towards targets in every part of the value chain and who constantly have to adapt to developments in line with customer requirements.'
The  (salmon and trout) farming segment reported operating profit fair value adjustment related to biological assets of NOK 740 million in Q1 2018, down from NOK 1,047 million in Q1 2017.
The segment harvested a total of 38,000 tonnes gutted weight of salmon and trout in Q1 2018, down 13 per cent from the same period in 2017.
Earnings before interest and tax (EBIT) per kg fell from NOK 24.2 in Q1 2017 to NOK 19.7 per kg in Q1 2018, mainly attributable to the fall in prices realised.
The VAP, sales and distribution segment reported revenue in Q1 2018 of NOK 4,690 million, down by six per cent on 2017.
Beltestad said operating profit in the quarter suffered from volatile and rapidly increasing spot prices for white fish, and also Atlantic salmon, towards the end of the quarter.
Operating profit before fair value adjustment related to biological assets was down from NOK 86 million in Q1 2017 to NOK 65 million in Q1 2018.
'It is evident that the group's wide product range, delivery reliability, product development, traceability and efficient logistics are of increasing popularity on the market,' said Beltestad.
'A high level of price volatility has had a negative impact on earnings in Q1 2018, but the underlying development in the segment is positive,' he stressed.
Lerøy's wild catch fishing operations are carried out by the Havfisk fleet, which it acquired over two years ago.  Havfisk's total catch volume in Q1 2018 was 22,268 tonnes, compared with 20,586 tonnes in Q1 2017.
The company said catch rates in the first quarter have been good and included 9,275 tonnes of cod, 3,686 tonnes of saithe and 6,545 tonnes of haddock. The average prices for all of these species increased by 11 per cent during the first three months of this year.
Looking ahead, the group said the market for Atlantic salmon and seafood generally remained strong.