Look Out for the Green Vessels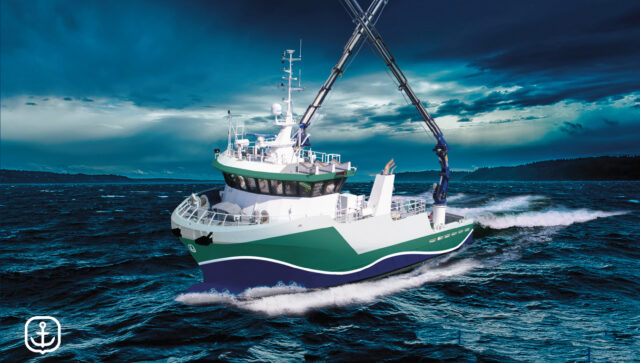 The transition to a greener fleet with electric power propulsion is well underway in fish farming, according to Moen Marin, the world's largest supplier of electric and hybrid workboats to the aquaculture industry.
The Norwegian company's market forecast for 2022 predicts that close to 80% of the newbuilds they deliver this year will be  vessels with either hybrid electric or fully electric propulsion systems. For deliveries in 2023, the share of hybrids and fully electric vessels will be even higher
"The market has shifted very rapidly. Moen Marin sold its first vessel with hybrid electric propulsion in 2019, and just three years later, we see that the demand for these vessels is catching up with conventional vessels", says General Manager Terje Andreassen.
Moen Marin believes that sentiment among seafood consumers is one of the key drivers behind this market shift: "Consumers expect and demand more climate-friendly food, as well as more sustainable and responsible food production.
"The fish farmers have obviously spotted this market trend, and now they want to adapt their business to it. All over the aqua-culture industry, leaders are looking for every possible way to reduce emissions and run operations more sustainably", says Terje Andreassen.
Mr Andreassen and Moen Marin also expect new laws and regulations from governments, consumer demands and requirements related to necessary certifications, will contribute to reduced emissions and enhance sustainability in the aquaculture industry.
Moen Marin has calculated that its most popular aquaculture workboat NabCat 1480 can reduce CO2 emissions by 200 tonnes a year if powered by electricity instead of fossil fuels.
Another advantage is better working conditions for the crew; less exhaust gas, noise and vibrations. Less noise is also good for fish welfare.
From 2022 all Moen Marin boats can be delivered with electric and hybrid operation. In addition, Moen Marin has introduced the mobile power banks eCont and eBox to improve the power charging infrastructure.
The Norwegian Seafood Federation has announced that the country's aquaculture industry should become fully electric by 2030. This can cut climate gas emissions by 360,000 tonnes annually, which is comparable to emissions from 180,000 cars.
However, the green transition is not just a matter of reducing CO2 emissions. We are convinced that electrification will also help businesses cut costs and save money.
Cut consumption, cut emissions, cut costs
NabCat 1512 HYBRID
NabCat 1512 is a real power plug of a hybrid service catamaran designed for tough use.
Equipped with:
• Palfinger PK 150002 and PK 41002
• Prepared for deck equipment
• 2 x one-man cabins
• 2 x two-man cabins
• 462kWh battery package
NabCat 1480 HYBRID
NabCat 1480 Hybrid represent the new age of fish farming vessels.
Equipped with:
• Palfinger PK 50002
• Electric capstans 1x3t 1x5t
• 333kWh battery package