Lice treatment helps Benchmark double profits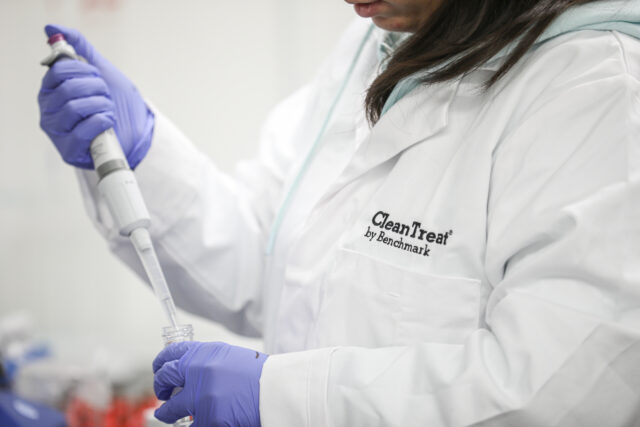 Aquaculture biotech company Benchmark has reported revenue up by a third and doubled its adjusted profits for the first half of the current financial year.
In its interim report, Benchmark's revenues were up 33% to £79.2m and adjusted EBITDA (earnings before tax, interest, depreciation and amortisation was £15.9m (H1 financial year 2021: £7.9m). Adjusted EBITDA excluding fair value movement in biological assets was £14.8m (H1 FY2021: £6.0m).
For Q2 of the 2022 financial year, adjusted EBITDA rose by 72% to £8.4m (Q2 FY21: £4.9m).
The company said its growth has been driven by "the successful and transformative commercialisation" of CleanTreat, its water purification system which received the NorFishing Innovation Award in 2019, and Ectosan Vet, its sea lice veterinary medicinal treatment. A third CleanTreat system is currently on order.
CleanTreat helped power Benchmark Animal Health to revenues of £10.7m (H1 FY2021: £2.3m). The segment is now just in profit, with adjusted EBITDA of £0.1m compared with a loss of £2.6m for H1 of FY2021.
The group's Advanced Nutrition segment reported revenues of £42.0m, up 20% on H2 of FY2021, and adjusted EBITDA of £11.5m (H1 FY21: £6.2m). Benchmark has invested in a solar panel system to reduce the carbon footprint of its main production plant in Thailand.
Continued growth in salmon egg sales helped Benchmark Genetics achieve revenues of £26.6m, up 20% from H1 FY2021. Commercialisation of specific pathogen-resistant (SPR) shrimp progressing well with good take-up in key markets including India, the company said.
Benchmark said it expects to meet the market's expectations for the current financial year.
Trond Williksen, CEO, commented: "The answer to sustainability lies in innovation – bringing forward new sustainable solutions. As a focused aquaculture biotechnology company, Benchmark is well positioned to play an important role, helping to improve sustainability across the aquaculture value chain."
Benchmark reiterated its intention to pursue a listing on the Euronext Growth Oslo stock exchange in the second half of calendar year 2022. The Company has already engaged DNB Markets and Pareto Securities as Joint Global Coordinators in connection with its assessment of an Oslo listing.