Leroy trebles final quarter profits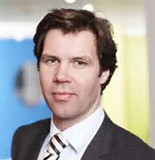 LEROY, the big Norwegian salmon farmer and now trawler fishing company, tripled its profits in the fourth quarter of last year.
Thanks to record high prices for salmon, the Lerøy Seafood Group reported a turnover of NOK 4.9 billion during the final three months of 2016 compared to NOK 3.6 billion in the same period last year. 
The group achieved an operating profit before fair value adjustment of biomass of NOK one billion against 353 million in the same period in 2015.
CEO Henning Beltestad (pictured) said: 'In 2016, Lerøy Seafood Group achieved a record high result, and can report the highest revenue and highest operating profit, before fair value adjustment of biomass, in the group's history,
'We are naturally delighted with such a great result. We can look back on a quarter with extremely high salmon and trout prices, strong demand but also some biological challenges and a relatively high share of contracts at prices below the spot price.'
He said costs remain 'extraordinarily high', particularly feed costs and the costs required to remain in compliance with statutory limits for salmon lice.
'We have implemented a number of measures and expect to see a reduction in production costs for salmon and trout, but have to acknowledge that it is difficult to specify a timeline for such a development,' said Beltestad.
For 2016 as a whole, the group reported revenue of NOK 17,269 million, up 28 per cent from 2015.
Operating profit before fair value adjustment of biomass was NOK 2,843 million in 2016 compared with NOK 1,380 million in 2015.
The profit figure before tax and fair value adjustment of biomass in 2016 was NOK 2,926 million compared with NOK 1,321 million in 2015.
Last September the company acquired control of Norway Seafoods and the fishing company Havfisk, which has a fleet of around  a dozen trawlers and their consolidation is continuing.