Lerøy Seafood reports increased harvest figures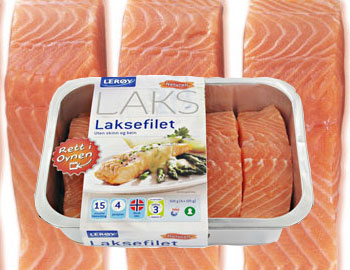 Lerøy Seafood has become the latest salmon and trout company to reveal higher harvest figures for the final quarter of 2020.
The combined aquaculture, trawling and fish processing company expects a total harvest of 48,300 tonnes, compared with 42,800 tonnes in Q4 2019. This will bring the total 2020 harvest to 170,800 tonnes, an increase of 12,600 on 2019.
Lerøy's Norwegian fish farming activities are divided into three divisions, Lerøy Aurora, Lerøy Midt and Lerøy Sjøtroll.
The updated report states that 40 per cent of Lerøy Sjøtroll's 17,900 tonne harvest was farmed trout, reflecting the growing international popularity of this species which, up to now, has been in the shadow of salmon.
Lerøy also owns 50 per cent of Scottish Sea Farms, which it shares with SalMar, the other stakeholder, but because it is classed as an associate business, the fourth quarter results will not be known until the full report is published next month.
The group's Havfisk (Ocean Fish) trawler fleet caught 12,600 tonnes of white fish (cod, haddock and saithe) during the quarter, marginally lower than for the corresponding period in 2019.
The total whitefish catch for 2020 is expected to total 68,400 tonnes, against 62,500 tonnes in 2019.
Lerøy is also being flagged up by Pareto Securities, the respected Nordic independent investment bank, as the most promising "buy" option among Norway's main fish farming companies.
But it also expects salmon prices to remain on the low side during the first three months of this year, mainly due to higher output from Norway and Chile. However, they should start to pick up as 2021 progresses, the company believes.