Lerøy Seafood Group sees revenue, profits fall for Q3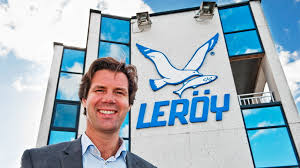 Lerøy Seafood Group, co-owner of Scottish Sea Farms, today posted a fall in third quarter revenue of NOK 329 million (£27.5 million).
Salmon was not the problem, however. The company said the most significant factor behind the lower earnings was pressure on the whitefish market resulting from the Covid-19 pandemic, and the change in catch composition compared with Q3 2019.
Lerøy is not only one of Norway's largest salmon farmers, it also operates a powerful trawler fleet whose main catch is cod, haddock and saithe, along with a major seafood processing business.
Revenues for the July-to September period totalled NOK 4,773 million (£398 million) against NOK 5,102 million (£426 million) in Q3 2019, down by just over six per cent.
Operating profit before fair value adjustment related to biological assets was NOK 370 million (£31 million) compared with NOK 501 million (£41.5 million) in Q3 2019, a fall of 26 per cent.
Group revenues for the first nine months of this year total NOK 14.79 billion, (£1.235 billion) against NOK 15.19 million (£1.268 billion) in 2019.
The operating profit for the first three quarters of 2020 was NOK 1,508 million (£126 million), compared with NOK 1,965 million (£164 million) in 2019.
On salmon, the company said that at the start of 2020, the spot prices for salmon were extremely high, touching around NOK 80 per kg. Lerøy's CEO Henning Beltestad, said the restrictions introduced to combat the Covid-19 pandemic continue to impact on demand for seafood.
He explained: "In the third quarter, the restrictions have had a particularly negative impact on earnings for the whitefish segment.
"We have no way of knowing how long we will be affected by the pandemic, but we are experiencing that the Group's model of close integration with the end consumer has grown even stronger throughout this period. In the long term, we also believe that demand for healthy, good and sustainable seafood will not change and will experience growth."
"One main target also in Q3 has been to keep the value chain open and ensure deliveries to our customers. We have succeeded in this. I would like to thank all my colleagues for their hard work in a challenging time."
Beltestad added: "2021 is just around the corner, and this is a year when we expect to see the initial effects of our substantial investments in smolt and other improvement measures."
However, from the first quarter, these prices and the market have been severely negatively affected by the restrictions introduced to control Covid-19.
Lerøy said these restrictions had a very negative effect on the market in the first half of the second quarter, while the second half of the second quarter saw an improvement in demand as restrictions were partly lifted. This trend continued in the third quarter. The market continues to be impacted by restrictions, but to a lesser extent than in parts of Q2.