Land based Kuterra told to shut down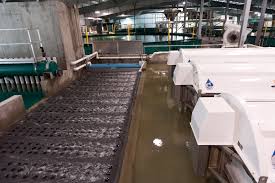 THE Canadian land based salmon farm Kuterra has been ordered to wind down operations by its owner, the Namgis First Nation, according to a report in the Vancouver Sun yesterday.
The order from the Namgis council to the Kuterra board reportedly came after talks broke down with a potential buyer for the farm late last year.
The British Columbia farm has been heavily subsidised since its creation. It was built with $9.5 million in government and charitable funding. Now that funding is running out, the company is looking for new investment from the private sector.
If the salmon farm shuts down, the First Nation will be left to pay $3.2 million in loans it guaranteed for Kuterra and stands to lose the original $1.2 million it contributed to design and construction.
However, operations at the facility continue to run at capacity, according to spokeswoman Josephine Mrozewski, who also said they hoped to make their first profit by the end of this year.
'We anticipate that we will break even this year, and that means covering our costs, but probably not paying down our loans,' she said.
Recent changes to the facility — including scaled-up biofilters and the addition of new harvest tanks — have finally stabilised growing conditions and increased grow-out capacity. Kuterra sells for a modest premium over Atlantic salmon raised in ocean based pens.
However, the continued viability of Kuterra depends on finding a buyer or partner that can finance expansion using larger tanks and new technology, which has advanced significantly since the project was designed just a few years ago.
Large, land based Atlantic salmon farms are under construction in Norway, Switzerland and Nova Scotia.
'We need to be at least twice the size that we are and we also would benefit from having our own hatchery,' said Mrozewski.