Labour's Murray backs salmon farming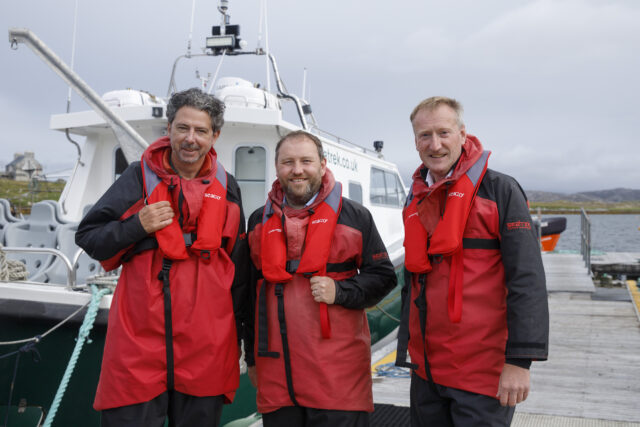 Shadow Scotland Secretary Ian Murray has praised the salmon farming sector's "immense contribution" to the Scottish economy and its "crucial" support for livelihoods.
The Labour MP toured Bakkafrost Scotland's Loch Roag salmon farm on Lewis, in the Western Isles.
He was joined by Western Isles Labour candidate Torcuil Crichton and welcomed to Loch Roag by Tavish Scott, chief executive of Salmon Scotland, and Iain MacIntyre, director of marine operations at Bakkafrost Scotland.
Murray said: "As the UK's largest food export, Scottish salmon makes an immense contribution to our national economy.
"The salmon farming sector also provides vital local jobs in the Western Isles and rural areas throughout the Highlands and islands, with the farms crucial for livelihoods and communities.
"In some remote coastal areas, the jobs created by the local salmon farm are the only reason that shops, restaurants and other businesses are viable.
"It is the job of government to ensure the continued success of Scottish salmon, facilitating sustainable growth with animal welfare remaining a top priority."
Ian Laister, managing director of Bakkafrost Scotland, said: "Bakkafrost Scotland aims to be the leading sustainable salmon producer in Scotland, and with more than 500 staff across 54 sites on the west coast, we remain committed to bringing long-term quality employment opportunities to what can often be among the country's more remote and fragile communities.
"Today's visit provided an important opportunity to share our approach to being one of the world's most vertically integrated salmon farming businesses – from feed to finished products.
"This ensures unrivalled traceability, consistently exceptional quality, and our world-renowned provenance."
Tavish Scott commented: "We were delighted Mr Murray took the time to get his feet wet and see first-hand how our skilled farmers look after the salmon in their care.
"He rightly recognises the vital importance of international trade for Scottish salmon and its contribution to the entire UK economy.
"Our sector is the economic backbone of coastal communities like the Western Isles, with 400 livelihoods directly dependent on the sector."
Scottish salmon is the UK's largest food export, with recent HMRC figures showing that exports jumped by 9% to £306m, driven by significant growth in the Asian and American markets.
Scotland's farm-raised salmon sector directly employs more than 2,500 people in Scotland and supports over 3,600 suppliers and an additional 10,000 indirect jobs.