Kames joins Cargill's sustainability initiative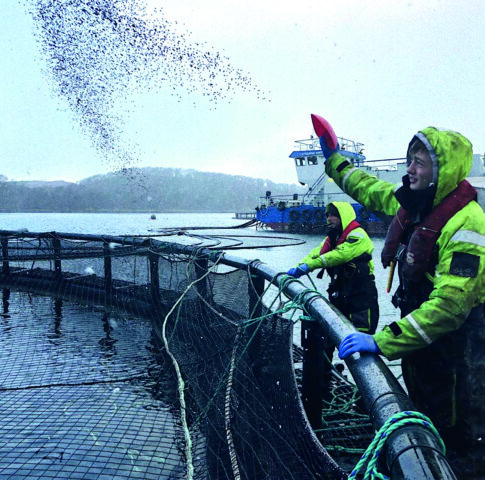 Kames Fish Farming has become the first UK trout producer to sign up for an initiative which aims to deliver carbon-neutral fish farming.
Kames, which farms sea trout in the est of Scotland, has joined the SeaFurther Sustainability programme, run by international feed supplier Cargill. The programme follows a threefold approach with the aim of at least 30% reduction in GHG emissions/kg of fish by 2030, in line with science-based targets.
The key elements of the programme are:
Supply Chain: collaborating with suppliers and customers to develop emissions reduction initiatives throughout the value chain;
Materials & Production: Identifying raw materials with lower carbon footprints and developing production; and
Feed efficiency: Innovating higher welfare feeds, reducing effluents, and improving modelling capabilities.
The process is already under way, with Cargill and Kames partnering to assess the "hot spots" where efficiency can be improved. The Kames Sustainability Committee, which is co-ordinating the company's drive to cut carbon emissions, has reported a decrease of 24% in the company's carbon footprint in 2021 from 2020, chiefly by improvements and better transparency in the feed supply chain.
Kames said: "Our aim is to implement emissions reductions in our value chain going forwards and in time create a fish that not only has an efficient protein ration (FIFO) but has no carbon footprint impact."
Kames MD Neil Manchester says "Kames fully adheres to the UN's 14th Sustainable Development Goal: to conserve and sustainably use the oceans, seas and marine resources for sustainable development. We recognise our role as providing a solution to the ocean's recovery whilst feeding the increasing population and understand the responsibility that farming in the sea entails.
"Supporting the 13th Sustainable Development Goal on climate action, it is also critical to take urgent action to combat climate change and its impacts. Carbon efficiency resulting in reduced emissions will only be fully achieved if we can work together across the whole supply chain, so it's fantastic that this programme and open communication is happening, rapidly and at scale.  We are proud to lead the way for reducing emissions from the trout industry through this partnership with Cargill."