Israeli RAS expert targets shrimp market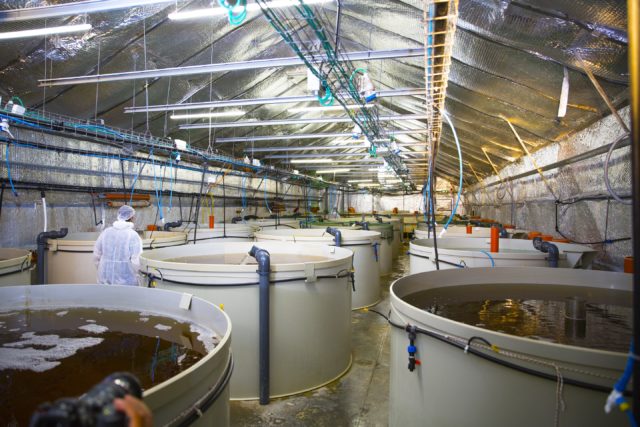 AQUAMAOF, the Israeli RAS specialist that has pioneered land based salmon farming, is set to launch its technology for the shrimp market.
The company announced today that after three years of research at its R&D facility in southern Israel, it has adapted its recirculating aquaculture system for the production of shrimp (L vannamei), with high survival, disease free results.
'Moving production indoors in a closed containment environment has enabled us to overcome many of the industry's challenges and become the first company to offer a commercial end-to-end solution,' said David Hazut, CEO of AquaMaof Aquaculture Technologies.
'Over the course of three years, we are very proud of the achievements we have made, such as high densities of shrimps with no negative effect on growth rates, whilst maintaining a disease free environment.'
AquaMaof said the global shrimp market was 4.66 million tonnes by the end of 2018, and is expected to reach 5.83 million tonnes by 2024.
'However, the traditional ponds culture has not been able to keep up with the global demand, due to a continuous struggle with shrimp diseases and high mortality rates,' it said in a press release. 'As a result, there is a growing need for land based technology for shrimp production.'
The company said it has achieved high density shrimp production, high shrimp survival rates, and a low FCR (food conversion ratio), in a disease free environment, with very low bacterial counts in the water, with its solution, which will be commercially available next year.
The technology also facilitates control over the colour of the shrimp and their genetics, and enables partial harvest in different sizes, while maintaining low operational costs, said AquaMaof.
The company's RAS technology has been used to establish land based salmon farms in Poland, Russia and Japan. It is also providing the RAS for Grieg NL's hatchery in Marystown, Newfoundland, and has teamed up with Pure Salmon, owned by 8F Asset Management, which last year announced plans to roll out land based farms around the world with a combined capacity of 260,000 tonnes.
AquaMaof said its facilities are located near large cities to reduces transportation costs, and that no antibiotics, hormones or chemicals are used in the farming process.
Other companies have recently embraced indoor shrimp farming, with Thai giant Charoen Pokphand Foods (CP Foods) revealing this summer it had moved 30 per cent of its production to RAS systems. The entire production would be moved inside within five years, the company said.
American firm NaturalShrimp, which claimed to have developed and patented the first commercially operational RAS for shrimp, is now reportedly planning to adapt its technology to farm barramundi, salmon, and tilapia on land.
Meanwhile, a land based farm rearing vannamei was set up in Scotland this year, with the aim of supplying local restaurants with the warm water species.
Great British Prawns, in Balfron, Stirlingshire, plans to grow up to a million shrimp a year. Despite an initial setback in the summer, when it lost most of its stock, the company hopes to produce its first harvest before Christmas.