Investment fund takes controlling stake in Bio Marine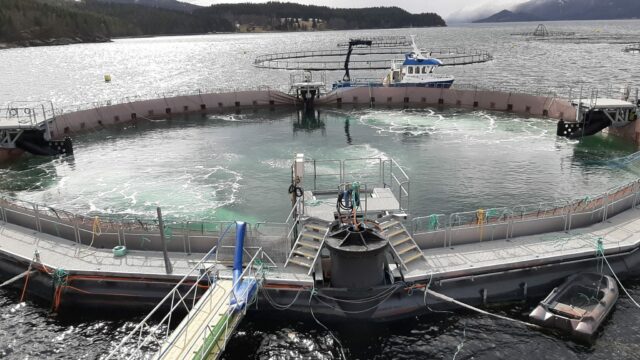 Seafood investor Bluefront Equity has invested an undisclosed amount in Bio Marine AS, a specialist in oxygen and lighting solutions for fish farming. Former Mowi Chief Executive Officer Alf-Helge Aarskog has been appointed as the new chairperson of Bio Marine.
Bio Marine offers equipment and systems for environmental control in aquaculture, particularly for ocean-based pens. The company, which is headquartered in Surnadal, Norway is a leading player within oxygen systems for aquaculture and offers a variety of other solutions for environmental control of pens, including monitoring and logging, lighting, pumps and lice skirts.
The company has also developed its own oxygen diffusion technology. Additional oxygen in pens is important for the vascular environment, fish health and growth, and can also contribute to less disease and lower mortality rates.
Martin Gausen, managing director of Bio Marine, commented: "A number of investors have contacted us in the past few years, but we have decided to team up with Bluefront Equity because we share both the same market view and values related to continuity and continuous development of our products and organisation. In addition, they are very friendly people who focuses on what matters."
Bluefront Equity's first investment was in Redox, which is an ozone and oxygen specialist that develops environmentally friendly technologies which improve fish welfare and biosecurity for the aquaculture industry. Redox has collaborated over several years with Bio Marine and Bluefront hopes to create a "cluster" of companies in the field of environmental control and oxygenation of pens.
The investment will be made via Bluefront Equity's first fund, Bluefront Capital I, as a combination of a share issue and purchase of shares from existing shareholders. The parties have agreed not to disclose financial details.
Prior to the transaction, assets, employees and intellectual property rights related to the aquaculture industry have been transferred from Bio Marine's former parent company, Oxyvision AS, to Bio Marine.
Bluefront Equity will own 59 percent of Bio Marine. The remaining shares are held by current shareholders, which include the company's management.
As well as the appointment of Alf-Helge Aarskog as chairperson of Bio Marine, Kjetil Haga, partner at Bluefront Equity, will join the company's board of directors.
Bio Marine expects revenue growth of 40 percent in 2021 compared to last year.
Bluefront Capital I is a certified sustainability fund in line with the EU's comprehensive taxonomy guidelines, a so-called "Article 8-fund".
Among the investors in Bluefront Capital I are the Bergesen family's Havfonn, Nysnø Klimainvesteringer, the Anker family, Klaveness Marine, Steensland-gruppen, Commonfund, Cuberas new impact fund, in addition to aquaculture industry seniors such as Alf-Helge Aarskog, Aino Olaisen, Jan Sverre Røsstad and Bjørn Apeland.