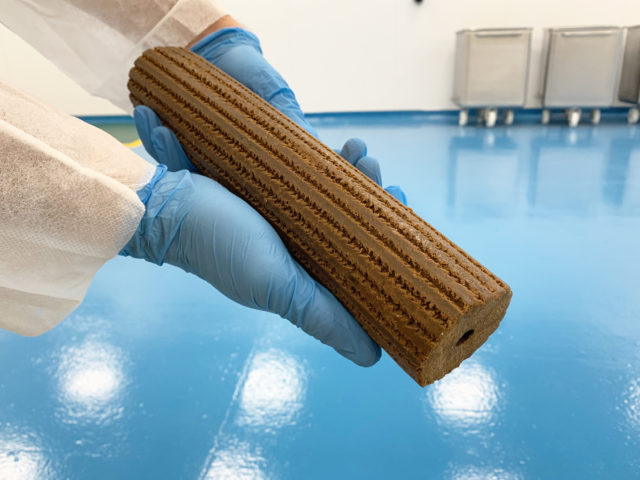 Major developments for cleaner fish management
Amidst global upheaval and the effects of Covid-19, UK-based feed manufacturer, World Feeds Ltd, has been hard at work ensuring that its well-laid plans for 2020 have been able to proceed as uninterrupted as possible. This year marks a major milestone for the company, as its factory in the heart of Yorkshire has undergone an extensive redevelopment that promises to increase production output capacity tenfold.
The company specialises in aquatic nutrition and supplies a wide variety of uniquely formulated, complete diets to some of the largest public aquariums in the world – feeding vast multi-species marine exhibits with tailored feeds, delivered via innovative forms of presentation.
Innovation is a key driving force for World Feeds and it has been crucial in the development of its aquaculture feed range, Vita Aqua Feeds (VAF). Launched into the global market in 2019, its distinctive grooved feed blocks are designed for cleaner fish and targeted at one of salmon farming's biggest issues – the control of sea lice. VAF is a pioneering and innovative solution to this problem and one that looks to revolutionise the way cleaner fish are fed, looked after and managed in global aquaculture.
Designed specifically for lumpfish and wrasse, the feed blocks are produced using bespoke machinery, designed by the in-house engineering team. The company employs unique extrusion processes to produce soft and malleable blocks that are highly digestible and attractive to the cleaner fish, formulated using the highest quality, sustainably sourced marine ingredients. They encourage and facilitate natural grazing behaviour, and studies with operations including Loch Duart and GIFAS have shown considerable benefits to general health and welfare, as well as reductions in cataract development and mortality rates.
To complement these pioneering feed blocks, VAF produces innovative feeding stations designed for practicality and to maximise efficiency. The VAF Manual Line Deployment (MLD) system, which is made from Marine grade stainless steel SS316 and includes 11 metres of black polysteel rope spliced with an SS316 carabiner, can be easily loaded direct from the pack in situ at the pen. Once loaded, the MLD can be deployed in the optimum position and lowered to the required depth for feeding. The unique yellow float indicator included with each MLD unit floats back to the surface once the block has been consumed, making it simple for users to know when a new feed block is required. They are currently in the final stages of developing a fully automated, self-powering feeding station that could become invaluable for more remote fish farms.
Of course, with the inevitable growth in demand for its cleaner fish feeding systems, the company has sought to grow in order to accommodate and supply. The 2020 redevelopment of its production site is part of a major investment for World Feeds. The new factory and packing facilities have been designed specifically around the company's particular ethos and processes, in order to increase efficiency and productivity, greatly increasing production output.
The company has developed new machinery (not pictured for confidentiality reasons), designed as ever by its in-house engineers. This means it can produce its unique aquatic feeds on a much larger scale, and to far greater efficiency, within a strictly high-care environment. The new facilities are subject to carefully devised training, cleaning and production management protocols (in line with UK government guidance re. Covid-19) ensuring that products and practices are to the absolute highest standard and meet industry requirements. World Feeds' innovation extends even deeper into its asset management with an internally programmed, semi-automated stock system, further maximising efficiency across departments. This investment is a major factor for the development and growth of VAF – and World Feeds Ltd as a whole – and the business is already looking ahead with great optimism towards the next stage of development.
VAF's impact on Norwegian aquaculture is poised for further expansion as it welcomes Ireland-based company, PTAqua, on board as distributors in the region, focusing on wrasse feed and potential hatchery applications in the future.
"We are delighted to be working with the PTAqua team in Norway." says World Feeds' Managing Director, Peter Kersh. "We feel it's a great alliance and a great meeting of minds in terms of our ethos and approach to nutrition and feeds. PTAqua have established a strong position as a bona fide supplier of specialist feeds and we are excited that, in working together, we can bring new technical products to the market to help resolve an issue which the industry has been wrestling with for many years."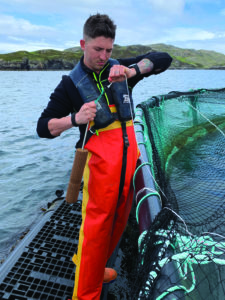 Captions: Featured: A VAF Cleaner Fish Feed Block
1: VAF feeding systems in use at Loch Duart, Scotland
2: The main production floor (minus their most sensitive machinery)