Introducing the S-Bin: the 'holy grail' of sustainable salmon packaging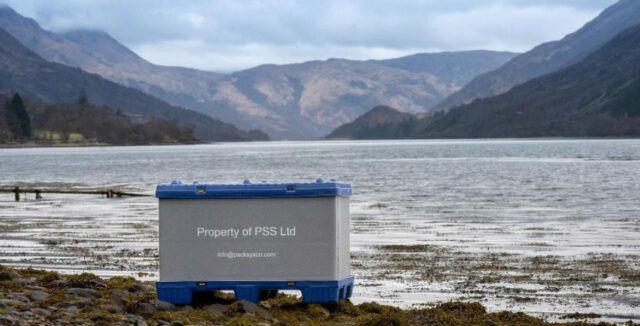 For a long time, aquaculture's 'environmental holy grail' has been a solution that completely cuts out – or at least greatly reduces – the use of EPS boxes when moving salmon from primary processing to customer.
With legislation on waste disposal tightening under the Extended Producer Responsibility Act, 25kg polystyrene boxes are an obvious target for higher fees in years to come, thanks to their single use and difficulty in recycling.
The need, then, to find new solutions in the packaging of fresh HOG salmon that meet environmentally-friendly criteria – and also keep product safe – is urgent.
Packaging Solutions Scotland Ltd's S-Bin goes a long way to providing that solution.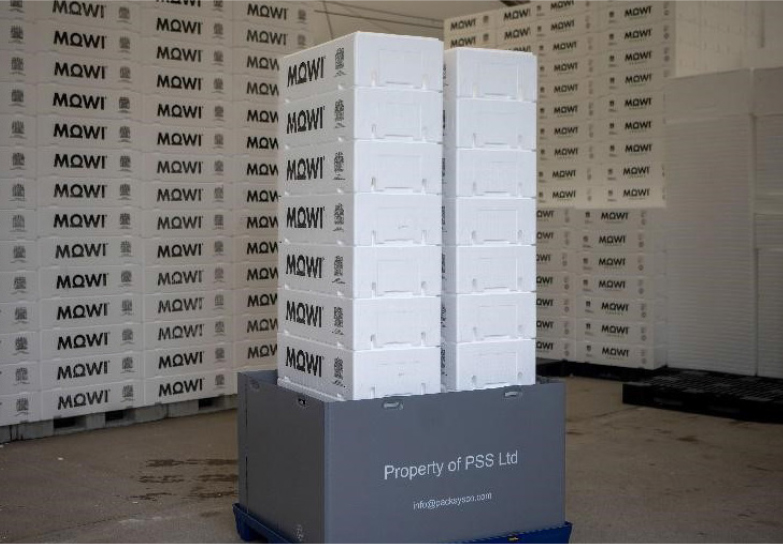 Not just a simple container, the S-Bin is a complete storage system comprising three main components: pallet base, lid and side wall.
Flexible, lightweight, recyclable and designed with the fish farming industry in mind, the S-Bin solves many problems faced by salmon processors:
• Reusable – The S-Bin is designed for re-use, with bases and lids lasting several years and side walls good for 20+ round trips. Easily washable, you can be assured of the freshness of product with every delivery.
• Storable – The unique collapsable design means 13 empty bins can be stored in the space of one full bin, meaning there is no longer a requirement to store masses of polystyrene, pallets and shrink wrap.
• Economical – S-Bins are offered on a rental basis, saving time and money when it comes to sourcing consumables or replacing bins at the end of their lifecycle.
• Transportable – Packaging Solutions Scotland Ltd works with fish processors to provide a full logistics package, ensuring product gets from A to B without a hitch.
• Environmental – savings of up to 78% CO2 have been reported by customers when using S-Bins in place of equivalent polystyrene boxes and wooden pallets.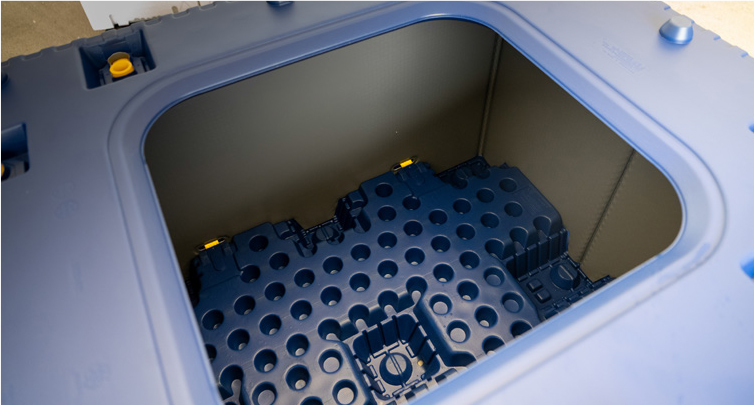 The use of the S-Bin is not the complete antidote to EPS boxes, however goes a long way to addressing issues faced across the industry.
The returnable nature of the S-Bin leads it to be best suited to businesses transporting a regular large volume of fish from primary to secondary processing facilities, often under contract.
In these situations, processors have found productivity increased – as well as the removal of headaches surrounding the disposal of 25kg polystyrene boxes.
Issues such as including drains blocking with beads and space restraints for collating and compacting packing materials are now a thing of the past.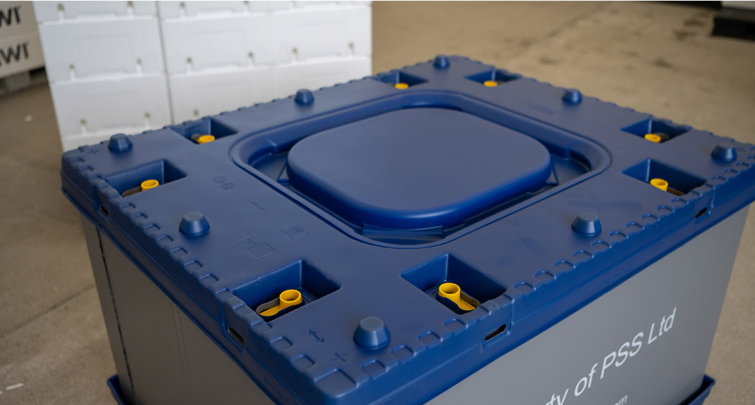 Gary Paterson, head of operations at Mowi Consumer Products, Rosyth, said: "The use of the S-Bin solution at our facility in Rosyth has significantly increased our productivity within the operation.
"We handled approximately 46,000 bins last year, instead of circa 880,000 EPS boxes. The fact that these bins can then be easily collapsed, cleaned and re-used many times makes this a very environmentally friendly solution that we hope to further develop with as many of our sites as possible.
"From a sustainability point of view, this is a significant step forward from using EPS in the market – and one that the Mowi organisation is very proud to have delivered here in Scotland in partnership with the Packaging Solutions Scotland team over a number of years.
"The simplicity, robustness of the bin in the supply chain. and the consistency and quality of the material have proven the concept works – and very well – from end to end.
"I would recommend any salmon processor who currently receives their HOG salmon in EPS boxes to consider this solution both from an efficiency point of view but also from a sustainability angle."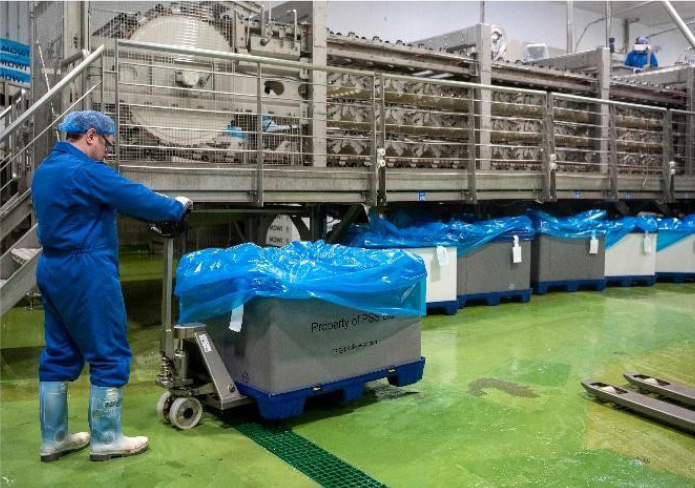 For more information on the S-Bin and the benefits it can bring to your business, contact Packaging Solutions Scotland Ltd on info@packsysco.com or visit www.packsysco.com