Intership takes delivery of new wellboat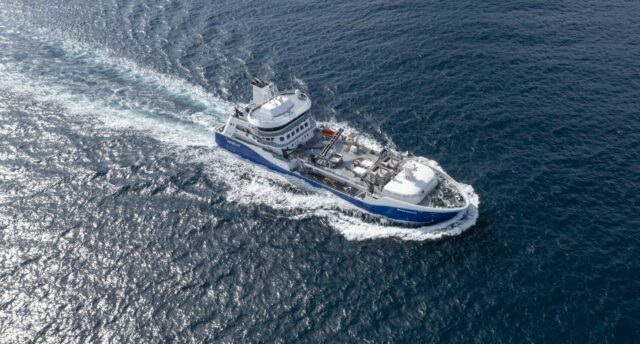 Norwegian wellboat company Intership has taken delivery of its second newbuild from Zamakona Yards Bilbao.
The Inter Scotia, a battery-hybrid wellboat, is designed by Salt Ship Design and has a load capacity of 2,500 m³.
Inter Scotia shares similarities with its sister vessel, Inter Atlantic. Both have been designed with a focus on promoting good fish welfare, fish handling, and biosecurity. The vessel features a substantial battery package that, when in combination with its heat-recovery system and other measures, significantly reduces fuel consumption and climate emissions. The fish-handling system is delivered by MMC First Process and the vessel is equipped with a high-capacity freshwater production system capable of producing 5,000m³ of freshwater per day.
Since 2016, Intership has taken the lead in developing freshwater treatment for lice and AGD using a reverse osmosis system. During the past seven years, the company has gained extensive operational experience in fresh-water production and fresh-water treatments. Intership´s fleet of well boats with reverse osmosis systems provides a low-cost, highly efficient and environmentally friendly method for dealing with sea lice, AGD (amoebic gill disease) and other gill infection challenges faced by salmon farmers.
Inter Scotia will initially be deployed with a salmon farmer in Scotland. After a few months, the vessel will be temporarily taken out of operation for the installation of the delousing system, FLS Caligus R600.
The combination of a freshwater bath and flushing the fish through the FLS system is a very efficient and gentle way to remove sea lice and gill infections in the same operation, Intership said.
"We are delighted to take delivery of our third vessel equipped with Intership´s industry-leading freshwater production and treatment setup," said CEO Ole Peter Brandal. "Freshwater treatment is arguably the gentlest method used for treating salmon, and it offers both environmental and economic benefits, in addition to increased efficiency through facilitating a high-capacity freshwater production system. Going forward, we have two more well boats under construction with even higher production capacities."
After the delivery of this latest newbuild from Zamakona, and two more vessels currently being built by Sefine, the company's total fleet capacity will be about 26,200m³ distributed across 11 wellboats.