Insect protein producer gets funding to scale up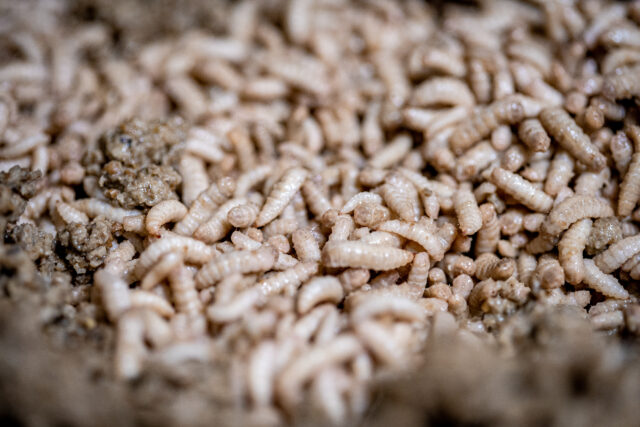 Danish insect protein business Enorm Biofactory has raised €50m (£42m) in a funding round that will enable it to scale up its production by 70 times.
Enorm produces insect protein from black soldier fly larvae, for animal and aquafeed. The company's facility currently has an output of three tonnes per week, but the latest funding round opens the way for an expanded factory producing around 11,000 tonnes annually.
Construction of the new factory in Hedensted Municipality, Denmark, is expected to start next month.
Among new shareholders is DLG, one of Europe's largest agribusiness companies. The financing round also includes loans from The Danish Green Investment Fund and Nykredit Bank.
Enorm's CEO Carsten Lind Pedersen said: "With our current suppliers and cooperation partners, and DLG as a shareholder, we have a strong foundation to develop Enorm to commercial scale."
Pedersen and his colleagues – including his daughter Jane L. Sam (Chief Operating Officer) and Arne Blok Lauridsen (Chief Technology Officer) – developed the business in collaboration with technology suppliers including the Danish producer of ventilation systems SKOV A/S and producer of logistic systems, Sealing System A/S. Feed business Aller Aqua also helped to get the project off the ground.
The fly larvae feed on residual biomass from the food industry, concentrate nutrients and can be processed into ingredients rich in protein and fat, as a sustainable alternative to traditional sources of feed. The ingredients can be used as feed for pigs, poultry, fish, and pets, and potentially even for food.
The company said feeding trials, with Enorm insect meal, at the National Institute of Aquatic Resources at the Technical University of Denmark have showed promising protein digestibility for trout and tilapia.
Enorm Biofactory is planning to use products from the pilot plant to explore and validate the potential for further different applications for feed and food, to develop and mature the market for insect-derived ingredients.