Innovasea delivers monitoring system to Grieg in Newfoundland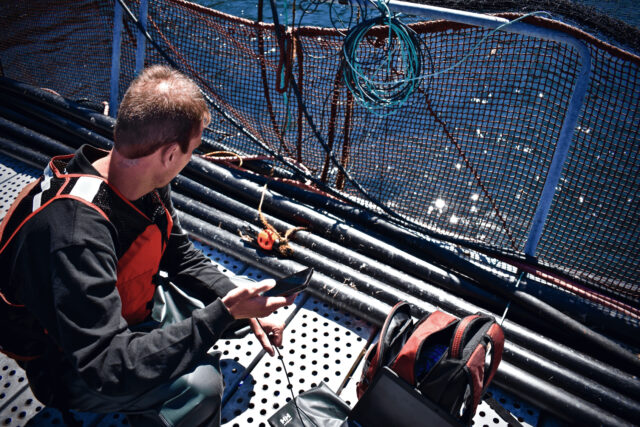 Aquaculture technology business Innovasea has begun installing a complete real-time environmental monitoring system at Grieg Seafood's new Red Island farm site in Newfoundland.
Innovasea's system uses underwater sensors using sound waves to report data such as dissolved oxygen and water temperature, as well as surface monitoring tools tracking tidal and weather conditions, and physical sensors to report any stress on the structure of the pens and mooring lines.
The environmental monitoring system at the remote site includes wireless aquaMeasure sensors and an aquaHub that uploads data to the cloud via cellular network.
This year Grieg will transfer three million salmon smolts from its hatchery in Marystown, Newfoundland to the 10 pens in Placentia Bay, on Canada's Atlantic coast. The fish will be harvested starting in 2023, with the company planning to harvest 15,000 tonnes of salmon in the region by 2025.
Eventually Grieg will be raising salmon across 11 sites in Placentia Bay, harvesting up to 45,000 tonnes of salmon per year.
Tim Stone, Innovasea's vice president of product development, said: "Real-time data is a necessity for today's aquaculture operators because it helps them protect fish stocks, optimize production and operate in a safe, sustainable manner," said "We're excited to provide Grieg with the best environmental monitoring tools in the industry so it can successfully open up this new area to salmon farming over the next decade."
The deployment is part of a CAN $27m (£16m) initiative with Canada's Ocean Supercluster, an industry-led body working to develop innovation in the "blue economy".
Grieg is leading the Supercluster's Integrated Operations and Real-Time Analytics Project in partnership with Innovasea and SubC Imaging.
Kendra MacDonald, CEO of Canada's Ocean Supercluster, said: "We are thrilled to see the work of the Integrated Operations and Real-Time Analytics Project team continue to advance, and celebrate this important milestone along with them. The collaborative efforts of the Ocean Supercluster and the project partners will deliver a transformative global operations capability in aquaculture and provide important environmental, safety and economic benefits."