Icelandic salmon makes its China debut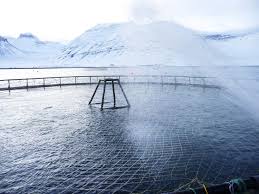 ICELAND has sent its first consignment of tariff free farmed salmon to China in what it hopes will become the main export market for its growing aquaculture sector.
The air shipment also adds Iceland to the list of salmon farming countries competing to sell into China and its Asian neighbours, a region that is willing to pay higher prices than markets in Europe or the United States.
The consignment was sent by Arctic Fish, which has salmon farms in the Westfjords. Its managing director, Sigurdur Pétursson, described it as a move of 'great significance' for Iceland's aquaculture sector.
The trial shipment came from the company's main breeding grounds and took off from Keflavik for Shanghai.
It was made possible thanks to a free trade agreement signed between the two countries back in 2013 but which is only now being fully activated.
Sigurður Pétursson said: 'The situation now is that the Asian market is paying some of the highest prices for quality products, and at a higher price than is available in European markets.
'This free trade agreement now gives us the opportunity to sell into the duty free market, which should give us 10 to 12 per cent higher return.
'It took a long time to complete all the required registration work and we received great help from our embassy in China. We also plan to start exporting more fish to China in the days and weeks ahead.'
Arctic Fish, which has its main farms at Dyrafjordur and Önundafjordur, on the Westfjords peninsula, was the first Icelandic aquaculture company to receive ASC certification.