Iceland 'should embrace open sea farming'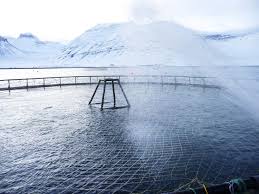 ICELAND has the potential to almost triple its salmon production target if it develops open sea fish farming, a leading authority on aquaculture has suggested.
The current government approved target is 50,000 tonnes a year, mostly carried out at traditional coastal or fjord based farms, although production is still well short of that figure.
However, aquaculture consultant Friðrik Sigurðsson, who works for the Norwegian seafood development company INAQ, has told Morgunbladid, Iceland's main newspaper, the country can eventually produce far more than that if companies are prepared to go further out to sea.
He suggested salmon could be bred in huge vessels that are able to withstand strong waves, adding that such craft were already in use off Norway and were delivering some promising results.
Open sea farming had many advantages over other methods including less risk of lice and pollution, he said. But it was also more expensive because cages needed to be stronger.
Sigurðsson accepted that open sea farming would probably not happen in Iceland until all the approved coastal sites had been fully utilised, even though the rewards are potentially huge.
While Norway had a number of advantages over its rivals, there was no reason why Iceland could not be more like the Faroe Islands, which receives higher prices for salmon than producers in Norway.
Sigurðsson told Morgunbladid that Iceland also has the potential to be ahead in areas such as product development.
'Today, aquaculture has become one of the main industries of the Faroe Islands and over the past 15 to 20 years they have managed achieve production of 80,000 to 90,000 tonnes a year…selling to countries such as China where Norway still does not have easy access.'
He was also critical of past Icelandic governments for being slow off the mark in recognising the value of fish farming to the country and said politicians needed to have greater vision when it came to the development of open sea farms.
'It is not possible to wait another 30 years to create a framework for ocean farming,' he stressed.