Iceland salmon farmers grappling with storms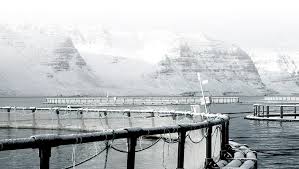 SEVERE weather conditions have been preventing at least one of Iceland's main salmon companies from carrying out harvesting activities.
According to Morgunbladid, Iceland's main newspaper, the slaughter of fish at Arnarlax's farms in Hringdal in Arnarfjordur has virtually come to a standstill over the past few weeks, with the result that salmon have been accumulating in the cages, leading to increased mortality.
The situation has been ongoing since December, with the site now containing 4,000 tonnes of salmon over five kilogrammes in weight and clearly ready for harvesting.
With temperatures dropping to minus 20 deg C, another deep depression was approaching the country today, expected to bring further operational problems for the country's fish farmers.
Arnarlax issued a statement to Morgunbladid saying it has been working with the Icelandic food safety agency MAST.
The organisation said that it had been difficult carrying out harvesting activities and getting fish away because of the weather conditions.
Iceland has been suffering from severe storms and snow since Christmas, which has also affected conventional fishing activities.
Normally, Arnarlax would expect to slaughter up to 100 tonnes a day but this has been impossible because of the weather.
One of the company's boats was recently sent to a nearby settlement to help with rescue operations following an avalanche.
MAST veterinarian Gísli Jónsson said sea temperatures had dropped sharply while the storms had led to very strong currents, affecting the fish and leading to deaths from bacterial problems.
He praised Arnarlax for their cooperation and openness in dealing with the issue. The company is reported to be seeking help from other companies, including Bakkafrost in the Faroe Islands, but this has not yet been confirmed.
Arnarlax is majority owned by the Norwegian salmon giant SalMar and was recently listed on the seafood index of the Oslo Stock Exchange.