Iceland must 'beef up' salmon air links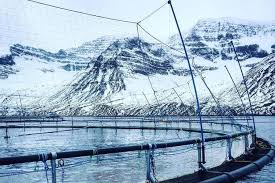 ICELAND must improve its air transport links and copy the Scottish sector on products if it is to enable its growing farmed salmon exports to reach the right markets, a leading logistics expert has said.
Valdimar Óskarsson, managing director of the international forwarding service DB Schenker, based in Iceland, told a recent business conference that carrying capacity is far below demand.
The problem had become worse, especially to important markets in the United States, since the collapse of the airline WOW in March.
He pointed out that last year Iceland exported just 17,000 tonnes of farmed fish (of which 95 per cent was frozen), while Norway exported more than a million tonnes.
And even smaller producers such as the Faroe Islands shipped and flew out 70,000 tonnes.
In an interview published by the fisheries magazine of the national newspaper Morgunbladid, Óskarsson said it was important that Iceland's airports had a good international connection.
But he added that flights from the country were expensive and this put its fish at a major price disadvantage.
Óskarsson's suggestion was to examine and possibly adopt the Faroese system, which includes sending the salmon first by ship to ports close to larger international airports and then flying it out on the final leg of the journey.
That way, Iceland could compete with Norway in terms of time, although transport costs would still remain more expensive.
Óskarsson's company has more than 430 branches across Europe and deals in both air and sea freight.
Another economic disadvantage for Iceland was that it exported more than it imported and this meant that planes were making the return journey half empty.
Icelanders had done well with white fish, but at the moment salmon was not in the same category, the magazine reported.
Production of farmed salmon in Iceland would soon triple, so transport problems needed to be tackled, he warned.
The airlines needed to increase the number of aircraft but, if not, exporters would have to pay more in freight costs.
Óskarsson also proposed that Icelandic fish farmers should follow the example of their Scottish counterparts by producing speciality salmon products that brought higher value.