Iceland farmer loses 90,000 salmon in storms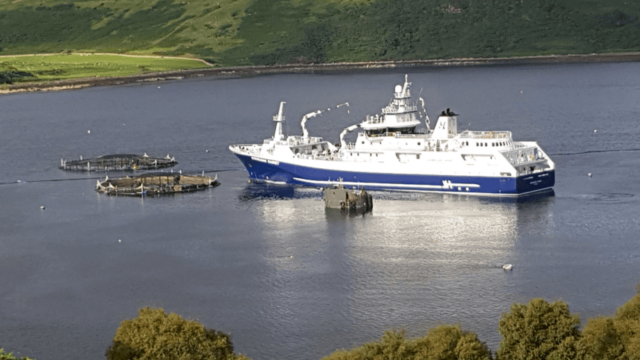 THE Icelandic salmon farmer Arnarlax has lost at least 470 tonnes of fish because a run of severe storms have prevented harvesting from being carried out, it is being reported.
The figure, confirmed by the national food safety agency MAST is a much higher than the original estimate of 100 tonnes and represents up to 90,000 salmon. The figure may well go higher.
Arnarlax is thought to have around 4,000 tonnes currently in cages at the five affected farms, which are located at Arnarfjordur in the Westfjords.
However, the company says it is now gradually getting on top of the problem following the arrival of a number of support ships.
The harvest and production vessel Norwegian Gannet left Denmark and called at the Faroe Islands before battling through high winds and heavy seas over the weekend to get to the Arnarlax site.
She is being supported by local fishing vessels which have been unable to put to sea because of the weather. They are then expected to transfer fish to the main production site.
Gísli Jónsson, a veterinarian at MAST, said the mortality rate has been high because the fish tend to squeeze up in the cages.
Over the past few weeks Iceland has taken a relentless battering from storms, which have created problems for salmon farmers, but Arnarfjordur appears to have been hit the hardest.
Arnarlax said that while the weather had presented fish farmers with some real problems, production at its other farms in Iceland have not been affected and the condition of the fish at those sites is good.
The company described that Norwegian Gannet, owned by Bergen based Hav Line, as one of the most advanced slaughter vessels in the world.
It said it should be able to speed up harvesting, adding that its processing operation was now going according to plan.
The company said it expects to harvest about 10,000 tonnes of salmon this year.