ICCAT gambles on Bluefin tuna, says Pew Charitable Trusts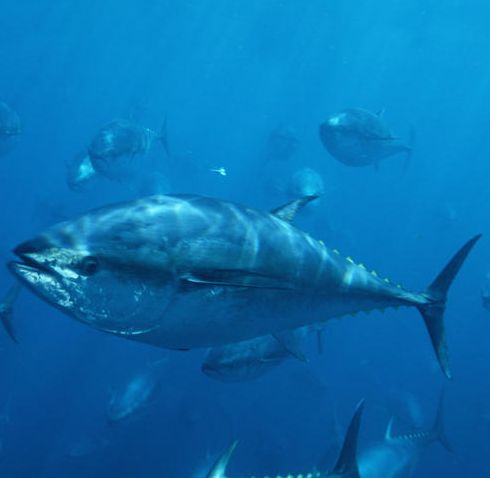 DELEGATES from more than 50 governments emerged from week long negotiations in Genoa, Italy, announcing an increase in Atlantic bluefin tuna quotas, while delaying efforts to combat illegal fishing of the species as well as catch limits for shark populations.
'This year's ICCAT decisions have been overwhelmingly disappointing. Several species, including bluefin tuna and porbeagle sharks, remain at serious risk from unsustainable fishing', said Paulus Tak, a senior officer with the Pew Charitable Trust.
'Despite the last few years of progress from ICCAT countries, the decisions this year have shown that this Commission is not accounting for critical vulnerabilities highlighted by science.
'Instead of continuing progress toward adopting precautionary, science-based catch limits in some of these fisheries, member countries put in place very risky quotas that could lead to declines in bluefin populations.
'Commission members took positive steps toward ending illegal fishing, which is good, but overall the outcome this week underscores the need to keep the international spotlight fixed on this body.'
With indicators of measurable growth in the western Atlantic bluefin tuna population, members of ICCAT raised the quota to 2,000 metric tonnes, an increase of 14 per cent, even though the population remains severely depleted.
According to scientific assessments, there is a good chance that increased catches will reverse the upward trajectory in population size. Next year the eastern bluefin quota will also increase, in this case by roughly 20 per cent to 15,821 metric tonnes.
Certain parties will also be allowed to catch an additional 321 metric tonnes. The quota will increase by roughly 20 per cent again in 2016 and for a third time in 2017.
While ICCAT's scientific committee agreed that a 'gradual and moderate increase' in catches would not jeopardise the stock health, some ICCAT members raised concerns that an increase of more than 70 per cent is neither moderate nor gradual.
Several commission members raised objections, which could lead to fishing outside the bounds of scientific advice.
'The increased quotas for Atlantic bluefin are risky and threaten to undo recent gains. Significant concerns remain about the ability of these fish to fully recover from a long history of overfishing,' Tak added.