Hybrid workboat helps Scottish Sea Farms go greener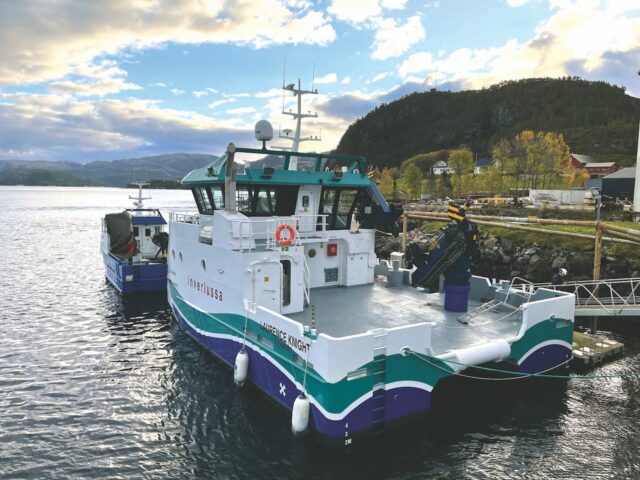 A new hybrid workboat for Scottish Sea Farms should help the company to cut its carbon emissions.
The 15 metre catamaran, Laurence Knight, can run on electric or diesel power, but with batteries capable of supporting operations for five to six hours at a time, its power source will be mainly electric.
The workboat was commissioned by Mull-based boat operator Inverlussa Marine Services from Norwegian yard Moen Marin and goes into service this month on Scotland's west coast.
Inverlussa Managing Director Ben Wilson described the delivery of the new boat as "a massive milestone".
He added: "There are similar hybrid vessels in Norway and we thought it was the right time to introduce this technology to our Scottish customers, who are committed to lowering their environmental impact."
Scottish Sea Farms (SSF) estimates that the new vessel will help achieve CO2 savings of around 234 tonnes a year, as well as potentially cut fuel costs by up to 50%.
The batteries have a total capacity of 244kW hours, can drive cranes and all other energy requirements. As soon they need recharging, the boat's two generators kick in automatically, and they can also be recharged from shore power.
With the new boat, data can be collected from the batteries for analysis back on shore to ensure that the energy system is being used efficiently.
The batteries have a typical life expectancy of 16 years and are also completely recyclable. The water used to cool the batteries is also used to help heat the boat's four cabins.
SSF's Regional Director for the Mainland, Innes Weir, said that a previous hybrid power trial at the company's Spelve farm on Mull had shown that 83 tonnes of carbon could be saved per year. The system trialled at Spelve, however, did not power feeding operations, however, unlike the hybrid system on the new workboat.
Weir said: "If we can operate a hybrid system that is completely electric, with generators just used for recharging batteries, we can roll it out across our estate, on the barges and other energy-rich areas we want to hybridise."
The Laurence Knight brings Inverlussa's fleet up to 17 vessels and five new jobs have been created to crew the boat in shift patterns.