Huon picks up gold and silver in quality awards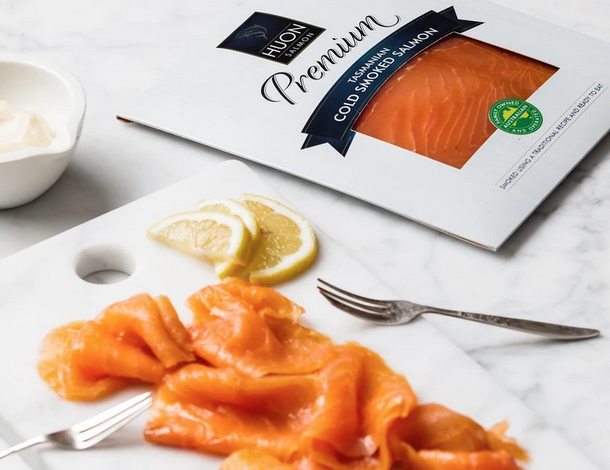 The beleaguered Australian salmon farmer Huon Aquaculture was able to smile again this week after picking up a clutch of top awards for the quality of its fish.
The company won the Champions Seafood Trophy at the 2021 Royal Tasmanian Fine Food Awards with five products gaining gold and a further four winning silver.
Huon is currently the target of a disputed takeover by Brazilian meat giant JBS, which is being opposed by Australian mining magnate Andrew Forrest, and earlier this week it posted a £67m loss for the year to 30 June due to a combination of fish escapes, thefts and Covid.
But the recent dramas were temporarily forgotten when Huon became the star performer at the awards ceremony.
The biggest accolade and a score of 99 out of 100 came for Huon's Reserve Cold Smoked Salmon Loin which received the Champion Seafood Trophy title. The judges described it as "an excellent product, balanced and well rounded".
Huon co-founder Frances Bender, said that the whole team was thrilled to, again, be recognised for its quality products amidst a world-class field.
She said: "We submitted nine products for judging, and every product gained either a Gold or Silver award.
"We are extremely proud that our locally produced products are considered of such high grade by so many local, national and international judges."
She maintained the awards came as a testament to Huon's commitment to using stress-free, sustainable methods of production.
Huon's Gold awards were: Reserve Signature Cut Salmon Loin – PLUS won Champion Seafood Trophy; Reserve Whisky Cured Cold Smoked Salmon; Reserve Tasmanian Ocean Grown Salmon Caviar; Premium Cold Smoked Trout; and Reserve Banquet Slice Cold Smoked Salmon.
Huon's Silver awards were: Premium Cold Smoked Salmon; Premium Wood Roasted Salmon; Premium Blackened Spice Wood Roasted Salmon; and Premium Wood Roasted Ocean Trout.