Huon board stands by JBS takeover offer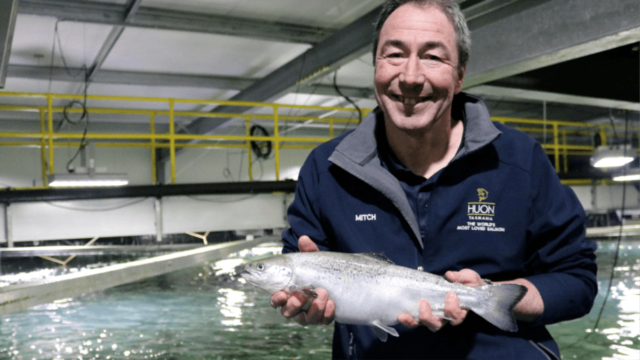 The board of Tasmanian fish farming group Huon Aquaculture have reiterated their support for the takeover offer from Brazilian meat producer JBS, despite the interest in Huon being expressed by Tattarang Agrifood and Cooke Aquaculture.
Huon Chairman Neil Kearney said the offer made by JBS of AUS $3.85 per share offers "compelling value", as it represents a 61% premium to the company's closing price in February, when the company's strategic review was announced. He has dismissed talk of rival bids as "noise".
The review led to an agreement between the board and JBS on a 100% acquisition deal for cash, which was announced on 6 August. Since then, however, Tattarang – owned by Australian mining magnate Andrew "Twiggy" Forrest – has acquired 18.5% of Huon's shares. Forrest has indicated that he does not favour the JBS bid because it would not help Huon to move to a more sustainable production model.
Meanwhile, international aquaculture group Cooke has also indicated its interest in making a rival bid for Huon.
Neil Kearney said in a letter to shareholders, published today: "It is important to note that the JBS proposal is the culmination of a rigorous strategic review process that was designed to identify the most compelling value proposition for all Huon shareholders.
"In the early phase of the review process, Tattarang expressed interest in Huon and submitted a non-binding and conditional indicative offer for the business. Tattarang was invited to participate further in the strategic review process (on the same customary terms as other process participants) and submit a final and binding offer but declined to do so. In any event, JBS's $3.85 cash per share offer is materially higher than Tattarang's non-binding and conditional indicative offer… we will not be distracted by external noise."
Kearney also stressed: "In the event of a transaction proceeding, a new owner of Huon would be required to adhere to the same rigorous environmental and animal welfare standards that apply today.
"In its commitments to animal welfare and sustainability, JBS has pledged to build on the legacy we have built at Huon."
The board promised to issue a comprehensive booklet for shareholders on the bid, including an independent expert's report, within four weeks.
In an aside that appears to invite a firm bid from Cooke, Kearney's letter adds: "Any proposal that Huon receives from third parties before then would be considered on its merits from a shareholder value perspective."