HS.MARINE – the reliable solution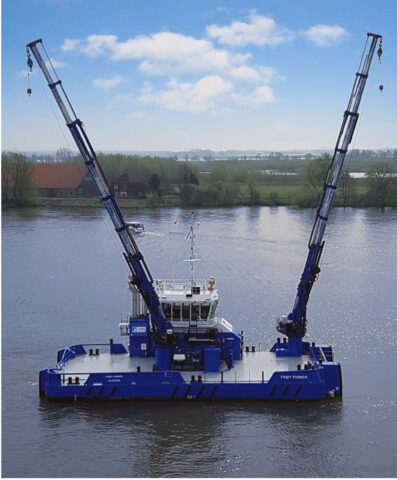 Designing cranes specifically for aquaculture produces better results for the user
Reliability, efficiency and a service always operational and able to respond to any request in a very short time. These are the three keywords that have made HS. MARINE, a manufacturer of marine cranes, one of the main players in the market.
In the company's headquarters in Viadana (Mantua), in a strategic area between Milan, Bologna and Verona, new projects and challenges for the future are born. A future in which fish farming plays a major role in the development of HS.MARINE.
"Fish farming," explains Stefano Forni, founder and Managing Director of HS.MARINE, "Is today the core business of our production. Over the years we have developed a technology dedicated to fish farming and we have created a range of specialised cranes".
Also for this reason in recent years HS.MARINE has recorded a strong increase both in production and in orders, so much so that it was necessary to move into a new production site, larger and more advanced than the previous one.
Stefano Forni says: "Our business plan was based on the observation that the marine crane market was primarily made up using truck designed cranes converted for marine use. Observing the lifespan of the cranes on the marine market and the costs of the service at sea, we understood that the main issue was reliability, so we decided to develop a specific design for the application and to focus on quality solutions and on the quality of the components.
"All crane designs have been specially developed and improved for operation in the marine environment with a particular attention to fish farming activity. All structures have been designed to take up heavy lateral forces and to have a low value of elastic deflection under load. All parts have been designed and protected for easy maintenance. Each crane components and each crane parts are selected and designed for long life.
"I repeat: ours are not former truck cranes, 'marinised'. Ours are cranes specially designed for fish farming. At first they may seem more expensive, perhaps we have a premium price, but ultimately we are the cheapest solution because, unlike other cranes, ours are designed to last and therefore we have the lowest cost of ownership on the market. That's why, especially in fish farming, we have so many repeat customers."
Longer lifespan
Customers agree that HS.MARINE cranes have a longer lifespan and on the fact that HS.MARINE cranes are designed to minimise and simplify maintenance.
At the same time, the cranes' reliability reduces the need for spares and, consequently, operational costs. This is the reason why the Italian producer gets so many satisfied and repeated customers. In fact, the HS.MARINE design concept, the quality of the components and the surface treatment reduce maintenance and lifetime costs, simplify the inspection activities and minimise the need for spares and recoating.
Reliability
The fish farming industry needs equipment of the highest level of quality to ensure reliable and safe operations. That's why HS.MARINE design focus is reliability, combined with easy and low maintenance. All components have been designed and selected to guarantee worldwide availability, easy inspection, low maintenance and easy service.
Safety 
To support the progress of the fish farming industry and to guarantee safety, equipment needs to be specially designed and developed for this application. It is now evident to the major operators that truck cranes or marinized cranes are not a good solution for fish farming industry. HS.MARINE cranes are prepared for the tough marine environment and are designed and built from the ground up for marine use, with high attention to detail. HS.MARINE cranes can work in any configurations: no matter if the boom is fully extended vertically or if it is knuckled downwards. In every position the safe working load can be moved by any crane cylinders, including the telescopic ones.
Stefano Forni concludes: "An exclusive support team 'HS.Equipment' has been established in The Netherlands since 2014 for sales and service activity. In despite of the recent market crisis  HS.Marine is growing quickly, in order always to provide the best solution".