Hofseth buys into Egg closed cage project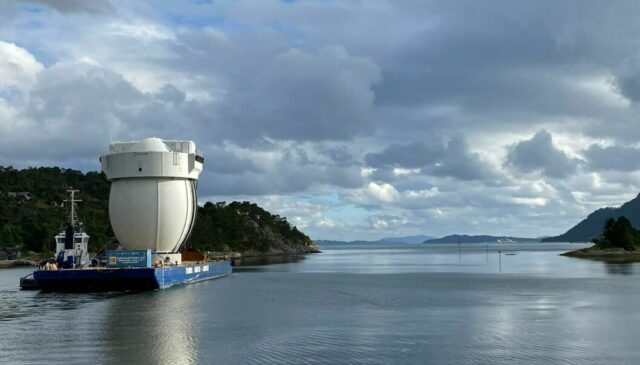 Hofseth International, one of Norway's largest independent fish farming companies, has purchased 50% of the shares in the company that owns the novel Egg aquaculture cage project.
It has bought into Ovum, the recently renamed Hauge Aqua Solutions business. Ovum is, appropriately, the Latin word for "egg".
Hofseth said in a statement that it plans to provide and equip five full-scale "Eggs" with a volume of 20,000 cubic metres. It also eventually intends to take a majority share in Ovum.
Hofseth harvests 50,000 tonnes of salmon and trout annually. Managing director, Roger Hofseth described the move as "a major investment in environmentally friendly conversion."
He added: "We at Hofseth will play a leading role in the development and commercialisation of closed farming technology.
"We are convinced that closed facilities are the future, both because we eliminate lice, escape and emissions, but also because we are freer in terms of location and get better control over the biological processes."
A prototype of the cage structure, of 2,000 cubic metres, will be put into production in Romsdalsfjord, about 100 miles north of Bergen.
Egg was unveiled seven years ago with the claim that it will help revolutionise salmon farming. Mowi was one of the early investors but it has since sold its interest in the project.
A smaller version of the Egg known as the "Egget" went on full show for the first time in May this year.
The Egg is a closed facility, which takes in water from the bottom of the structure and pumps it out through the top. The water is purified and the environment and production can be controlled.
Hauge Aqua Solutions founder and Egg developer Cato Lyngøy believes that good fish welfare and better utilisation of the input factors are the project's main goals.
He said: "Now the Egg has been launched, and soon we will be ready to release fish into the facility. The whole idea behind Egget is that the salmon should have a good life. Now the salmon themselves will have to evaluate whether we have succeeded."
About the involvement of Hofseth, he added: "This strategic collaboration is of crucial importance to carrying out the development project."