Highland cinema will tell salmon story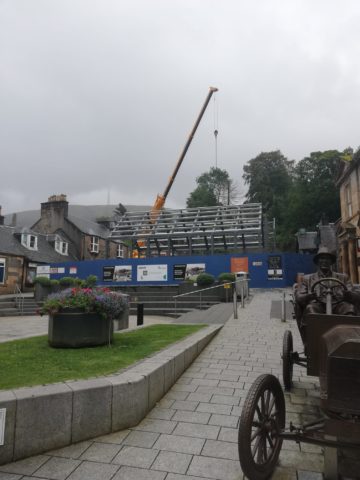 THE developers of the new Highland Cinema in Fort William said building work was on schedule for the venue's opening in May next year.
Local entrepreneur Angus MacDonald said the town centre cinema will transform Fort William and the surrounding area, filling a cultural vacuum for residents and tourists.
Mowi Scotland, the biggest private sector employer in the Lochaber area, agreed in the summer to be the main sponsor of the cinema.
The deal, worth £100,000 over four years, means Mowi staff at every site in Scotland, including Rosyth, will receive a 30 per cent discount on Highland Cinema tickets for eight months of the year, while the 80-seater restaurant will have farmed salmon dishes on the menu.
Mowi's brand will also appear on the cinema website and in all corporate communications, and the partnership will provide an opportunity to tell the salmon story on the big screen.
MacDonald said the sponsorship was good for the Highland Cinema and good for Mowi's employees and their families, and for the firm's future recruitment.
'They wanted to support something that made Fort William more attractive for their staff,' he said.
MacDonald, whose family has had roots in Lochaber for centuries, said he wanted to give something back to the community.
His first initiative was to open the Highland Bookshop, which he established two years ago and which is, he said, doing 'incredibly well'.
The cinema was his next mission and he bought the site of the old town hall on Cameron Square. A recent open day reflected local enthusiasm for the project.
The cinema, designed by Skye based architect Dualchas, will have two screens, one with 100 seats and one with 63 seats. It is expected it will create 12 jobs, rising to 25 in the summer.
MacDonald said he hoped it would become a community hub as well as a cinema.
'There are 20,000 people within an hour's drive of Fort William, there are 440,000 tourists a year…and it rains more than 200 days a year here.
'I'm very excited about its opening. I think it's going to be the biggest thing that's happened to Lochaber in my lifetime, in terms of entertainment.'
The red carpet is expected to be rolled out on May 9, 2020, for the grand opening.