Hebridean salmon scoops Great British Food Award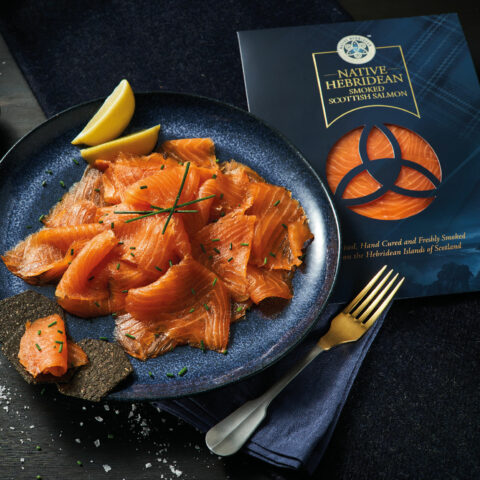 The Scottish Salmon Company's (SSC) Native Hebridean Smoked Scottish Salmon has won a prestigious Great British Food Award 2021 for Best Smoked Fish & Seafood, while Kames Fish Farming was "highly commended" in the Fresh Fish & Seafood category for its Scottish Steelhead Trout.
Highly commended in the Smoked Fish & Seafood category were The Pished Fish Company for its Smoked Salmon Gilltong, and Loch Fyne Oysters for its Loch Fyne Bradan Rost hot smoked salmon.
The Great British Food Awards celebrate the best of British artisanal produce in the food and drinks industry. This year's winners were announced on 29 October.
The competition is highly regarded and the judging panel includes some of the most acclaimed chefs, food critics and influencers in the UK. The awards series was launched in 2014.
Unrivalled in quality and coveted by top chefs worldwide, Native Hebridean Salmon descends from the wild salmon of rugged and remote North Uist and is raised exclusively in the Hebrides, fully traceable to the islands. The award-winning fish is a result of a unique brood stock program spanning more than a decade.
It is then hand cured and smoked by SSC at its Harris & Lewis Smokehouse in Stornoway on the Isle of Lewis in pebble-lined kilns with wood shavings from aged Scotch whisky barrels and has a firm texture and outstanding sea-fresh flavour.
Chef Jack Stein said: "My winner is the Native Hebridean Smoked Scottish Salmon.
"There were some strong contenders for the number one spot and it was hard to call, but when it came down to it, this just had the best flavours.
"Being bred from wild island salmon gives this fish such a lovely texture. I thought the flavours were great – really good seasoning and really well smoked with a good smoke ring.
"The packaging was very classy. For me, this was the perfect smoked salmon. I could have happily eaten a whole fish!"
The winner in the Fresh Fish & Seafood category was Osborne & Sons (Shellfish) Ltd, for its cooked cockles. One of the judges for this category said: "I couldn't stop eating them, a delicious sea-like flavour, a soft texture with a good bite… we should treasure producers like this and fall back in love with this delicious native seafood."
Regarding the "highly commended" steelhead trout from Kames, one of the judges commented: "A really delicious flavour profile, sea trout are magnificent fish and superior to salmon in my eyes. It's really great to see them raised in lochs like this."
The Morecambe Bay oysters – "the perfect oyster" – from Loch Fyne Oysters were also highly commended.