Havfarm wins ASC approval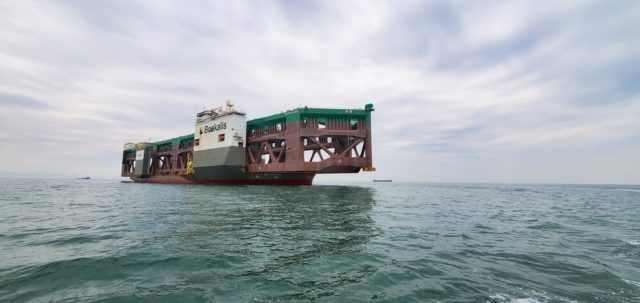 The site which holds the giant Nordlaks offshore platform Havfarm 1 has been certified by the Aquaculture Stewardship Council.
The news will provide considerable encouragement for the company, which is fighting a decision by the Norwegian Directorate of Fisheries not to allow the conversion of its development licences on fish welfare grounds.
Nordlaks has launched an appeal, arguing there is no justification for the Directorate's decision.
Havfarm 1 is currently positioned in the Ytre Hadseløya locality in the municipality of Hadsel municipality in Vesterålen.
Built in China at a cost of £84m, the 385-metre long platform is officially named "Jostein Albert" after a former Nordlaks chairman. It was brought to Norway in June last year to northern Norway, following a 15,000 mile sea voyage which took it around the Cape of Good Hope. It can hold 10,000 tonnes of salmon.
The company said on Facebook it was working with several voluntary certifications to improve and document its production of farmed salmon in order to meet customer and other stakeholder requirement for sustainability and transparency.
It wrote: "We are pleased to be able to announce that the offshore farm site 39777 Ytre Hadseløya has now been ASC-certified! 
"The ASC standard (Aquaculture Stewardship Council) is a voluntary environmental standard that sets specific requirements for the operation of our sites.The content of the standard is divided into eight principles that cover the topic of safeguarding the natural habitat, ecosystem and biodiversity in, and in the local environment around, our localities."
Nordlaks added that the ASC certification was an important milestone for the operation of the platform.