Hauge cracks open "Egg" project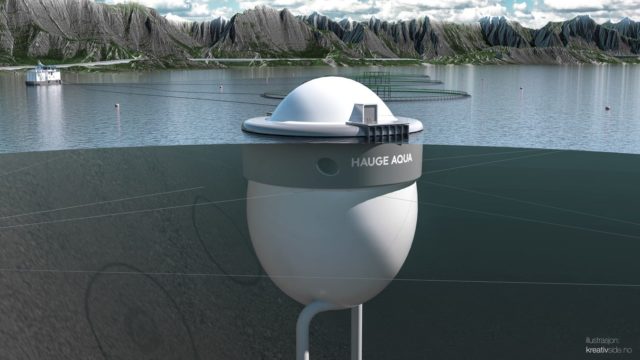 Hauge Aqua Solutions has embarked on the construction of the first of its futuristic enclosed fish farm projects, known as the Egget. It has awarded the contract to another Norwegian company, Herde Kompositt, which will build the 21-metre high egg-shaped fibre-glass unit.
The Egget is the latest in a series of unusually shaped salmon farm facilities from Norway that might look more at home in outer space than anchored off a fjord.
It is designed to help solve some of the problems associated with salmon farming, such as lice, escapes and pollution. The Egget project was initially a collaboration with Mowi (formerly Marine Harvest), but in February Hauge announced its intention to go it alone after apparently becoming frustrated with the pace of progress. Mowi is continuing to invest on other closed containment systems.
Kim Røssland, general manager and one of Herde Kompositt's four partners, said: "We look forward to contributing to this major innovative project that will be able to contribute to a more sustainable aquaculture industry."
Hauge Aqua has also taken over the operation of a lifeboat factory in Norway for the project. The company said current production platforms, based on the open pen system, were too weak to sustain significant growth and achieve environmental performance.
He said: "Hauge Aqua's ambition is to provide a trustworthy and competitive alternative production platform. Through our excellent team and collaborating partners, we are offering the industry a fully contained system in which we address many of current costly challenges that apply in today's farming."
The shape of the new robust and enclosed tank is that of an egg, built as a composite sandwich. The shape provides a complete double curved surface. Ninety percent of the tank is submerged and not visible during operation, while 10% is above the water and filled with ventilated air
The features include, Hauge says:
a sheltered workplace addressing health and safety for the staff by eliminating many high-risk operations;
a water intake is located at the bottom of the unit at a depth where the salmon lice are not normally found;
due to the level-separated intake- and outflow of water from pen to pen, infection pressure are significantly reduced;
the design, water flow and stable environment inside the egg will facilitate fish welfare and performance;
the closed containment and feeding regimes enable more accurate feeding without loss of uneaten feed; and
The robust unit will reduce and maybe eliminate risk of escape during sea phase.