Gruelling new shift conditions for Mowi Chile workers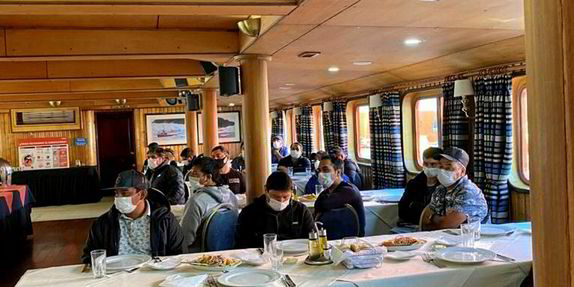 Coronavirus has caused Mowi Chile to start moving essential staff and services to Chile's Aysen region using boats, as tougher lockdown measures introduced by the local authorities begin to bite, reports IntraFish.
50 staff members, all of whom had tested negative for coronavirus, set sail on Saturday from the port of Koshifas in Puerto Montt, destined for 8 production sites in the Aysen region.
Workers will be rotated under a 21-days-on, 21-days-off shift pattern to try to prevent the spread of the virus.
The coronavirus lockdown in Chile's southern Aysen region, home to a more a than a dozen salmon producers and suppliers, has tightened further with no one allowed in or out by air or road, leaving sea as the only option.
The measures extend to salmon producers, processors and suppliers, as well as their subcontractors. Evacuations from the area can only be made in case of emergency or prior notice and in coordination with Aysen health authorities.
Mowi CEO Fernando Villarroel said:
'It is of utmost importance in these uncertain times that the people of our team and their families arrive at work with the peace of mind of being in good health.
'Twenty-one days on, 21 days off is a long shift, which implies a great personal and family sacrifice, so it is important to be able to offer that assurance.'