Growers' conference recognises shellfish excellence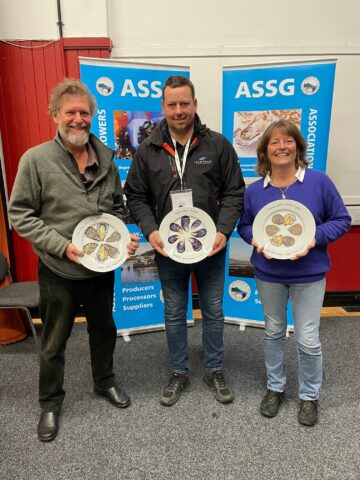 The annual Best Scottish Shellfish competition, held last week at the Association of Scottish Shellfish Growers' conference in Oban, saw mussel and oyster farmers anxiously awaiting the results of this keenly fought contest.
The winners were:
Best Gigas Oysters – Andy Abrahams, Colonsay Oysters, Isle of Colonsay
Best Native Oysters – Judith Vajk, Caledonian Oysters, Barcaldine
Best Mussels – Cameron McLean, Inverlussa Shellfish, Isle of Mull
Alex Adrian, Crown Estate Scotland, Linda Wood, Marks & Spencer and Dr Eleanor Adamson, Fishmongers' Company Charitable Trust, led by industry journalist and shellfish farmer Nicki Holmyard, made up the judging panel.
"We judge the shellfish on their appearance, taste, smell and texture, and they come to us as a numbered sample, so we have no way of knowing who produced it. It is a difficult but tasty job picking out the very best, and the judges were unanimous in their choice of worthy winners. All the shellfish submitted this year were outstanding, but there can only be one winner!" Holmyard said.