Grimsby company announced as Silver Sponsor of World Seafood Congress 2015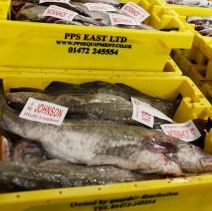 COMMITTING to the long term future of the UK seafood industry, PPS East Limited – a leading supplier of reusable plastic packaging for fresh fish – has been named as an official Silver Sponsor to the World Seafood Congress 2015.
Organised by the Sea Fish Industry Authority (SeaFish) and the International Association of Seafood Professionals (IAFI), the Congress is to be held in Grimsby, 'the seafood processing hub of the UK' and is expected to attract over 350 global seafood professional attendees from around the world.
The event will be held at the Grimsby Institute on 5-9 September 2015, and will showcase an international panel of expert speakers who will inform and excite the audience of UK and International seafood delegates with keynote presentations, industry specific speeches and workshop sessions.
Sponsors, PPS East currently supply, manage and hygienically wash a wide range of innovative reusable plastic packaging for fish producers, merchants and major seafood processors to the retail sector.
Its fish boxes, crates and containers have all been designed to meet the needs of today's chilled supply chain, providing a safe and integrated handling system for fresh fish, whilst contributing to protecting the freshness and quality of the catch.
The varied sized boxes are used to transport many species of seafood through the cool chain by sea, road or internally between processing factory areas.
Responsibility to retrieve the boxes is undertaken by PPS East, with hygienic cleaning at their Grimsby BRC accredited box and pallet washing factory.
Assisting customers to change their current fish packing processes from using alternative 'one-trip' boxes to PPS's innovative reusable bulk packaging can help them achieve a lower carbon footprint for their fish product, less packaging waste and also cost efficiencies.
Kate Williamson, Business Development Manager for PPS East commented: 'We are proud to be supporting the World Seafood Congress in 2015, especially as it is being held in our home town of Grimsby.
'Being sponsors of such a large scale congress, shows our customers and other businesses, that we are serious about supporting the seafood industry, and that PPS are eager to be involved in events that promote innovation and sustainability throughout the supply chain.'
The World Seafood Congress attracts global seafood professional attendees from around the world and its goal is to build new and enhance existing partnerships between all seafood professionals and specialists to benefit the global seafood trade.
It also aims to profile innovation in seafood and provide opportunities for maximum participation by all economies involved in seafood trade.
Other main sponsors already confirmed for the World Seafood Congress 2015 include Young's Seafood and North East Lincolnshire Council.