Grieg shines as Q1 volumes and sales jump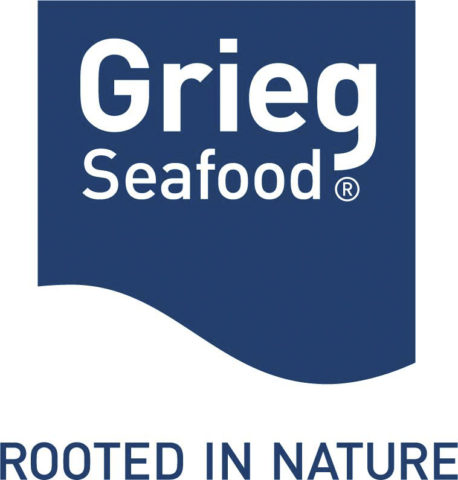 GRIEG Seafood beat all earnings forecasts for the first quarter of 2018 on the back of considerably higher output, figures show today.
The company harvested 11,433 tonnes in Q1 2018, up 34 per cent on the 2017 Q1 figure of 8,522 tonnes.
While the average industry spot price was down NOK 5.36 per kg on 2017, for Grieg Seafood the price achieved was only down by NOK 2.70 per kg.
This, said the company, was mainly due to high harvest volumes towards the end of the quarter, when the spot price was at its highest.
The resulting operating revenues for the first quarter of 2018 were NOK 1,493 million, a five per cent increase on last year.
Operating costs/kg were down by NOK 1.00 in the quarter, mainly as a result of higher harvest volumes in addition to a more stable biological situation.
The lower costs, combined with strong price achievement in the quarter, resulted in an EBIT/kg of NOK 14.20, down compared to NOK 15.40/kg in Q1 2017.
The company's EBIT (operating income) before fair value adjustments were NOK 162.1 million in Q1 2018, up from NOK 131.5 million in Q1 2017.
In Shetland, which has faced biological challenges for some time, EBIT was -7.1 million NOK, a significant improvement on the same quarter last year (-14.4 million NOK).
The industry is collaborating to mitigate the challenges and Grieg Seafood is cooperating closely with the other farmers in the region. Extended fallowing time, the use of cleaner fish and the monitoring of algae are measures to be prioritised going forward, said the company.
Overall, Grieg said its goal was to maintain an annual production growth of minimum 10 per cent until 2020. Furthermore, the company aims to keep production costs at- or below the industry average.
The Q1 report states: 'Continued access to high quality smolt is critical to ensure growth going forward. In addition, larger smolt will result in shorter production time at sea, thus contributing to reduced biological risk and increased survival.
'Another pivotal aspect of Grieg Seafood's growth strategy is the increased utilisation of the company's licences.
'High site flexibility is essential to improve utilisation, and Grieg Seafood cooperates with local authorities on an ongoing basis to optimise flexibility.
'Increased volumes, improved capacity utilisation and shorter production time at sea will contribute to higher efficiency and reduced production costs.
'The company also continually undertakes cost reducing initiatives and has established an internal improvement program, which scheduled to run until 2020.'
Salmon prices increased in Q1 2018 compared to Q4 2017. Year-to-date, the supply of salmon has been lower than previously expected, which can partly be explained by the lower than normal sea temperatures in Norway.
The spot price increase in the quarter points to a continued strong demand for salmon.
The group's total share of fixed price contracts in Norway was 46 per cent in Q1 2018. The high contract share was mainly due to the low harvest volume in the period.
Looking ahead, Grieg said low global production has led to increased spot prices throughout Q1 2018.
'The relationship between supply and demand is expected to stabilise in the longer term, which will likely give stable, strong market prices in the future.'
Grieg expects to harvest approximately 21,400 tonnes in Q2 2018. For 2018 as a whole, the company expects to harvest approximately 80,000 tonnes, which corresponds to a 28 per cent increase over 2017.