Grieg reports no mass escape after avalanche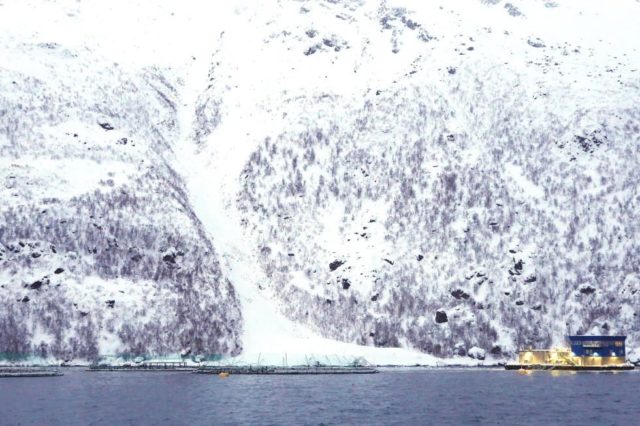 Grieg Seafood was breathing a sigh of relief today after it was established that a series of avalanches that struck one of its fish farms in northern Norway earlier this week did not cause significant salmon escapes.
However, mistakes have been admitted.
The incident happened early on Monday near Altafjord, where Grieg has an estimated 1.2 million salmon at various stages of cultivation. No one was hurt.
Part of the area was under ISA watch, which made the possibility of an escape somewhat more serious.
At least two cages were damaged and the Directorate of Fisheries feared some fish may have got out. Close investigations were hampered following a warning of further snow falls.
The Directorate has now issued a statement saying that no holes have been found in any of the nets, and it has concluded that no major escapes had taken place.
Local Directorate chief Otto Andreassen said that so far seven salmon have been picked up in recapture nets, leaving the possibility some fish may have broken free.
It is thought these were probably washed over the side when the avalanche struck.
He added that Grieg had carried out an inspection with ROVs (remotely operated vehicles) and found there were no holes in any of the nets that were exposed to the landslides. The cage rings had also remained intact, although one of them had been punctured.
Using a wellboat, Grieg plans to move fish from this cage to a more secure internal cage on site.
Andreassen also confirmed that two years ago Grieg had applied to relocate the facility because of avalanche danger with permission granted by the Finnmark county municipality last February, with a move planned for this summer. The Directorate said at the time it felt it inappropriate to change locations while the current site was still in operation.
Andreassen added: "Following this incident, we will now review our handling of this, together with relevant sector authorities and in dialogue with the company, to find out if something should have been done differently."
Grieg has also admitted it should have taken more preventative measures when rain forced the movement of snow.
The company has thanked everyone for their help, adding it had received offers of assistance from fishermen and other fish farming companies.