Grieg catching up with big players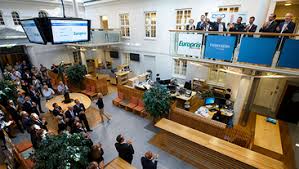 GRIEG Seafood is no longer swimming in the shadow of the big salmon farming players on financial markets, a leading industry observer has suggested.
Tore Tønseth, a seafood analyst at the investment organisation Spare-Bank 1 Markets, said that so far this year the value of the company's shares on the Oslo Stock Exchange had risen by an average of just over six per cent, and went up by nine per cent after the company unveiled impressive first quarter figures last week.
Those figures revealed a nine per cent rise in revenues and a 30 per cent increase in harvest volumes.
He pointed out that the surge in share values had taken place during a weak period for salmon stocks in general.
Grieg also reported that it was making progress in tackling its biological problems in Shetland.
Tønseth told the Norwegian business journal Finansavisen: 'Historically, Grieg Seafood has been among the weaker companies operationally on the Oslo Stock Exchange.
'They have exposure to the extremes of farming, in both the south and north of Norway, and
(the performance of) its operations in Shetland and Canada have varied from time to time.'
But he had been pleasantly surprised by the seafood company's first quarter results.
'With considerable investment and new management, much has begun to go the right way for Grieg Seafood,' he said.
Tønseth praised the work of Andreas Kvame, who became CEO in 2015, and said that due to low utilisation of existing licences, the company had had a lot to work on in volume terms. This had doubled the effect on earnings.
'The volume increase will, in isolation, also increase earnings, but with higher volume, the company will also get better utilisation of its infrastructure, which in turn reduces the unit cost.'
Grieg Seafood expects to harvest 82,000 tonnes this year and has set a goal of 100,000 tonnes for 2020.