Grand welcome for Bakkafrost's new service vessel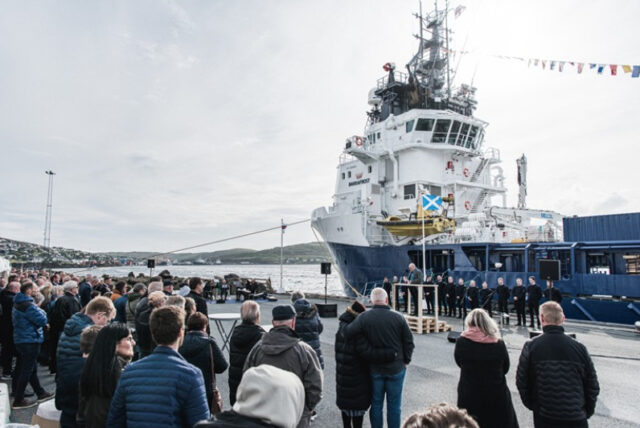 Bakkafrost's new farming service vessel, designed primarily to develop farming operations in Scotland, has been delivered to the company in a colourful ceremony watched by up to 500 guests.
The Bakkanes arrived at Glyvrar, the company's Faroe Islands headquarters, where it was welcomed by company CEO Regin Jacobsen at a reception accompanied by brass band music and cheers.
The reception also included a top line up of Faroese and company officials including the Magnus Rasmussen, Minister of Environment, Industry and Trade, Torbjørn Jacobsen, mayor of Runavík municipality, and Ian Laister, CEO of The Scottish Salmon Company who spoke at the reception.
Later all guests were invited to go on board and inspect the vessel.
The Bakkanes looked resplendent in its new blue and white livery (its hull  structure has been repainted from the original red).
Bakkafrost purchased the former 241 foot long North Sea energy support vessel earlier this year, as part of its value chain investment programme to develop farming operations in Scotland. The vessel had previously been working off the coast of Norway.
Bakkanes was brought to the Faroe Islands. After tenders from 10 European and Scandinavian shipyards, including one in Scotland, the contract for adapting it as a farming service vessel (FSV) was given to the Faroese company MEST, which has also fitted a delousing system.
Other work included sandblasting, repainting and the installation of four cranes and a hawser system. Earlier this month Bakkafrost unveiled significant investment plans for its Scottish operation designed to transform the business through innovative RAS technology.