Go ahead for 'transformational' hatchery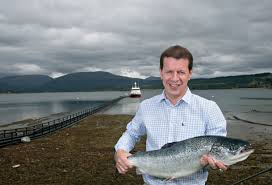 SCOTTISH Sea Farms received planning permission this week to build its £35 million RAS smolt hatchery at Barcaldine Argyll.
The new facility is part of a total £70 million investment by the company over the next few years. The new hatchery will create up to 25 permanent jobs.
The land-based RAS freshwater facility will be used for rearing young salmon in bio-secure and environmentally friendly conditions.
Planning consent follows a period of consultation with the local community and the company has adapted plans to ensure that the site is developed in a way that also benefits the community and supports sustainable growth in the area.
Jim Gallagher, Scottish Sea Farms managing director, said: 'I am delighted by the positive decision from the local authority and the support from the local community.
'We are pleased that this decision has been taken so quickly and because of this investment, Argyll will benefit from high-quality jobs and training opportunities which will include disciplines such as fish husbandry, bio-chemistry and engineering.'
In designing and developing this recirculation facility, Scottish Sea Farms will deploy best practice in fish health and husbandry, production and environmental impact.
The planned facility will use 90 per cent less water than traditional freshwater sites, and will deliver significantly improved energy efficiency.
The facility will be used to rear smolts until they are ready to transfer to sea farms.
'This will be transformational for Scottish Sea Farms, raising our production of smolts from 5 million to 11 million annually, and helping us to meet the rising global demand for our premium Scottish salmon and to grow our harvest volumes and revenues sustainably,' said Gallagher.
'It will also further increase our contribution to Scotland's economic prosperity and the development of our coastal communities.'
Demolition has been underway at the site and construction is expected to start in the next few weeks, with the first fish reared in the new facility entering the water in 2019.