GM producer breaks ground on Ohio farm site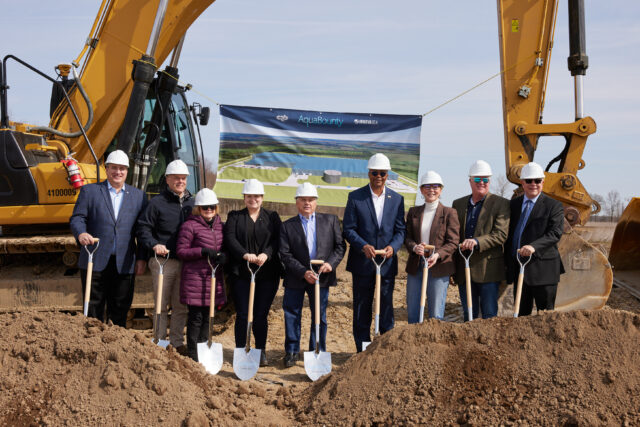 Land-based salmon farmer AquaBounty officially broke ground yesterday at its new site in Pioneer, Ohio.
The recirculating aquaculture systems (RAS) facility will have a capacity of 10,000 tonnes when completed.
AquaBounty expects the project cost to be in the range of US$290m (£222m) to $320m (£245m) including a reserve for potential contingencies of $30m (£23m). The company anticipates commercial stocking of salmon eggs to commence in late 2023. Once in full operation, the farm is expected to bring more than 100 new jobs to the region.
AquaBounty, which operates in the US and Canada, is thw world's first commercial producer to use genetically modified salmon. Its AquAdvantage fish are Atlantic salmon, with added genes from Chinook salmon and ocean pout in order to maximise growth and feed conversion rates under RAS conditions.
At the ground-breaking ceremony, the AquaBounty management team was joined by partners CRB, which will lead the design and construction of the facility; Innovasea, which is designing the RAS technology for the farm; local and government officials; and Ohio economic development leaders.
Sylvia Wulf, Chief Executive Officer of AquaBounty, said: "We are pleased to have officially begun building our next-generation, highly productive facility in Pioneer, Ohio, which will serve as a model for the aquaculture industry and our continued expansion.
"This milestone comes after many dedicated teams completed extensive scientific investigation, analysis, testing, modelling, and regulatory review. We also celebrate with the Village of Pioneer, Williams County, the Regional Growth Partnership, and the State of Ohio, which will benefit from the introduction of a new industry with new jobs and new opportunities in Northwest Ohio."