Global slowdown dents AKVA's Q4 revenues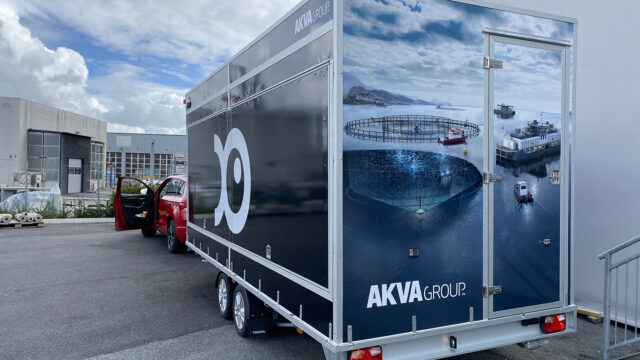 AKVA, the Norwegian aquaculture technology group, has reported lower revenues in the fourth quarter of 2022, blaming the weak state of the economy.
The group had an operating loss or EBIT of NOK 14m (£1.1m) compared to a profit of NOK 19m (£1.5m) in the same period in 2021.
The operating income was NOK 779 (£63m) down by 6% from NOK 833m (£68m) in Q4 2021.
The full year EBIT or loss was minus NOK 56m (£46m) against an operating profit of NOK 120m (£9.8m) in 2021.
AKVA said that during the final quarter, the group's sea-based segment experienced a decrease in revenue compared to Q4 2021 of 9%, while the digital and land based segments experienced an increase in revenues compared to Q4 2021 of 14% and 1%, respectively.
Throughout most of last year the group said it experienced challenging profit margins due to inflation and global supply chain restrictions. It also warned that the proposed salmon ground rent tax will have a negative effect.
The company explained: "This was further intensified during first half of 2022 due to the war between Ukraine and Russia.
"Examples include increased freight rates, high energy prices and increased price level on raw materials and key components in general.
"Furthermore, the global instability impacted the net working capital and especially inventory levels.
AKVA's increased inventory levels are partly related to higher price levels and partly to secure supplies for our production facilities and products.
The company added: "AKVA group implemented several mitigating actions to manage the challenging situation and monitors the situation closely. The situation was normalised somewhat in the second half of 2022 but is still considered to be uncertain going forward.
On the plus side, AKVA announced a week ago that it had secured a NOK 442m (£36m) contract for the second phase of the Nordic Aqua Partners RAS site in China.
Looking ahead generally, the company said the order backlog remained sound at NOK 1,688m (over £138m) and formed a good base for future organic growth and strategy.
The report concludes: "The impact from the global instability and uncertainty related to supply chain restrictions and cost inflations were reduced in the second half of 2022 but may continue to impact the profitability on short term.
"The implications from the introduction of new resource (salmon) tax are uncertain.
"Most likely this will have a negative impact on the order intake level on short and medium term, especially in the post smolt market in Norway. Based on the underlying demand for salmon the Group still believes in a strong market growth long term.
"To meet the future demand a significant part of the production will come from land-based facilities or other unconventional production methods."